Readers' App Reviews – June 2016
Check out some apps released by raywenderlich.com readers this June, including an app to understand iSO Layout, an app to watch funny fail videos, and an Etch A Sketch for your wrist! :]
WWDC is behind us, and now the mad flurry begins!
Here at raywenderlich.com, we're updating our books and tutorials as quickly as we can. And I'm sure all of you are rushing to update your apps as well!
Of course, some of you haven't been waiting for WWDC to get started. You're already releasing great apps today! My inbox has been full and I've pick just a few to share with you. I never have time to write about them all sadly so be sure to check out the honorable mentions at the end!
This month we have:
An app to understand iOS layout
An app to watch funny fail videos
An Etch A Sketch for your wrist
And of course, much more!
Keep reading to see the the latest apps released by raywenderlich.com readers like you.
Summit – Summarized News Reader

Summit is a beautiful news aggregator making it easy to gather all your news in one place and catch up on the latest quickly.
Summit is a beautiful app with a clean interface to give you a distraction free reading experience. But Summit's real value is its intelligent processing. Summit will automatically condense articles into comprehensive digests along with infographics and maps for statistics and addresses pulled out of the articles.
Summit has all the essential features like save for later, preloaded articles, full text search, sharing, etc. Its also universal running on both iPad and iPhone.
Adaptivity (A)

Adaptivity is a must have app for developers working to full understand AutoLayout and size classes for all devices.
Adaptivity gives you a visual representation for all necessary iOS measurements. It covers navigation bars, tabbars, toolbars, layout margins, readable content space, and more. All listed in both pixel and point values.
Adaptivity also shows a few useful presentation styles so you can see how margins and other values change. You can see modals as Form Sheets and Page Sheets. UISplitViewController and UITabBarController implementations. You can toggle the status and navigation bars. There is even a Today Widget. And if you download its sibling Adaptivity (B) you can try out iPad SplitScreen and Slideover for the latest iPad Multitasking.
If you've got questions about the iOS layout system or need to visually show it to a colleague, Adaptivity is a must have app.
Trending Angler

Trending Angler is a must have app for our reader's who like to fish when you're not reading our latest tutorials.
Trending Angler makes it easy to record your latest catch quickly so you can get back to fishing. It couldn't be easier. Trending Angler will automatically grab the current location, weather conditions, and Moon. You can easily enter catch specific info like the species, length, weight, and water conditions. And of course, no catch would be complete without a photo!
Also, you can include information about your tackle as well so you're prepared for next time. All of this is easily viewed later to remember your best catches or figure out trends to help you catch more.
Trending Angler also lets you set markers on the map for landmarks, good fishing spots, or debris to stay away from. Great for mapping out your lake or river over time.
It is easy to share your catches with friends through iMessage or other social sites. And all your catches and markers are synced with iCloud so you can view them on your iPad when you're back on land preparing for your next trip.
QQwik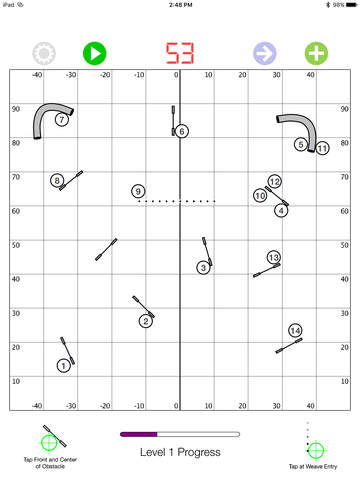 QQwik is a must have app for agility dog handlers. QQwik helps agility handlers practice memorizing the course layouts so they can better lead their dogs through it accurately and gracefully. Two very important points for agility handlers.
QQwik has over 100 popular course maps covering four levels of difficulty. As you practice you're scored on the amount of time you look at the course before hiding the labels, the time it takes you to recall the full course, and the accuracy during recall. You can see your scores overtime for each map.
QQwik will allow you hints if you need it to help you master those tricky cross zones. And when you're getting started you can add 30 seconds to the clock if you're not quite there yet. This app is definitely a niche but for those who need it, its the perfect match.
ZenCard

If you've ever been to a developer conference, you've probably left with a pocketful of business cards. Maybe you lost a few. Maybe you ran out of your own cards half way through.
Now all those problems of exchanging pieces of paper can be in the past. ZenCard will let you convert all your information into a QR Code containing a VCard. You can use ZenCard to scan the codes quickly and add them to your iPhone's contacts.
You can also share the VCard directly on messages or Twitter for full digital contact sharing as well. ZenCard also works on the Apple Watch so can share your contact information without even taking your phone out of your pocket. ZenCard is a great alternative to the physical business cards we're all still stuck on.
Fun Tube

One of my latest guilty pleasures is watching fail videos on Youtube. Something about others falling off trampolines makes me not feel so bad about that bug I wrote last week. >:]
Fun Tube is here to make that just a little better. Fun Tube hand selects the funniest videos so you don't have to hunt. It finds hilarious animals, funny commercials, epic win compilations, fail videos, and more. You can check out the most popular clips of the day or just go through the fun feed watching video after video.
You can mark your favorites for later or keep up with a particularly funny channel to get their latest videos all the time. You can also search for specific videos if you're itching to see an old favorite.
It is of course very easy to share your favorite videos, a must when you see a dog eating a watermelon from the inside out while sitting in it. :]
Soundtrack
If you're a Spotify user you might want to check out Soundtrack.
Soundtrack will load your music library and your playlists so you can easily listen to your Spotify music. Soundtrack is another way to listen to Spotify but that is on half the story.
The big reason to download Soundtrack is to discover new music. While you're listening to music Soundtrack will show your related songs to the whats playing. It makes it easy to save those songs to your library or add them to a playlist.
If there is a song you want to add to your library, you can easily search. While you're search Soundtrack will not only try to show you what you're looking for but also recommendations for related music you might like. Soundtrack is all about discovering the best music on Spotify. If you're a Spotify listener, give it a try!
plusclock Sketch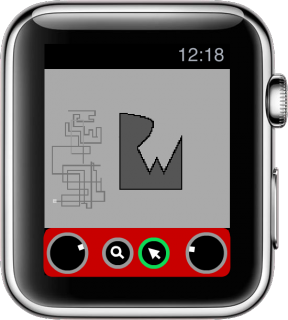 The next time you're looking to create a masterpiece on the go, look no further than your Apple Watch! Sketch by plusclock is an Etch A Sketch for your wrist.
Draw with pixel for pixel accuracy on your wrist. Sketch uses the digital crown as your knob and you can easily switch direction using onscreen controls. There is easy an easy to use zoom feature making details a cinch. And you can choose from a few shades of grade to give your creations a little extra depth.
Using the companion phone app you can easily send your creations back to your iPhone and save them to your camera roll or share them on your favorite social site.
Honorable Mentions
Every month I get way more submissions than I have time to write about. I download every app to try them out, but only have time to review a select few. I love seeing our readers through the apps submitted to me every month.
It's not a popularity contest or even a favorite picking contest — I just try to share a snapshot of the community through your submissions. Please take a moment and try these other fantastic apps from readers like you.
FansVoice
Hilary Hide
Gamer's Log
Engagement Rings TV App
The Candy Shop
Travel Bill
Kyooz
Skateboard Party 3
Where To Go From Here?
If you saw an app your liked, hop to the App Store and leave a review! A good review always makes a dev's day. And make sure you tell them you're from raywenderlich.com; this is a community of makers.
If you've never made an app, this is the month! Check out our free tutorials to become an iOS star. What are you waiting for – I want to see your app next month.