Readers' App Reviews – August 2015
Check out some apps released by fellow raywenderlich.com readers in August, including games that will test your reflexes, and much more!
August has been another fantastic month full of apps from the RW Community.
I've tried them all and picked a few to share with you. I never have time to write about them all so make sure to check out the Honorable Mentions below as well.
This months community showcase includes:
A helpful app for Mac developers
A must have tool for Electronic Engineers
Games that will test your reflexes
And of course, much more!
Read on to see what readers like you have released this month!
Panic Run

Don't Panic! On second though, PANIC! RUN!
Panic Run is a simple yet quickly overwhelming game. Obstacles fall from above prepared to crush you. RUN! Simply tap to change directions as you run frantically avoiding obstacles.
As you run from obstacles, to floor will move to make things harder or easier. Powerups will appear to slow down time. Collect coins to unlock new characters from chickens to unicorns. My favorite was the dinosaur. You can also use those coins to unlock other themes like Volcanos and Ice Caverns.
Run, don't walk, to the App Store for this one. ;]
Help Crafter

Help Crafter makes it easy to generate the help menus for your Mac apps.
Help Crafter guides you through creating an outline for your help content. You can edit each page in full rich text instead of hand coding HTML and Javascript. There is support for document wide style changes to make sure everything matches your brand perfectly.
Help Crafter will export a fully indexed native Apple Help Bundle ready for import into your Mac app. You can also export HTML and PDF copies to post to your website. And if you're old school you can even print it.
Infinity Stones

The infinity stones are missing and you're the one to collect them.
Using your finger to control a magical whirlwind, you can solve puzzles to recover the infinity stones. Collect stars along the way for extra flare, because who saves the world without a little pizzaz?
In this twist on the classic sokoban-style puzzle game, you'll encounter teleporters, bridges, ice, heat, darkness, cracked floors, and more! There are over 120 brain busting levels with 5 different locations. Collecting those infinity stones isn't going to be easy.
SVGm Unlimited

Its time your iOS device started helping make iOS apps.
SVGm Unlimited converts SVG files to native Objective C code to use SVG files as native UIViews.
Once converted to Code, your SVGs will be fully adjustable by native iOS attributes for scale, rotation, etc. They'll work with native animations just like your regular UIViews.
Using vector graphics for your UI, you won't need multiple copies of each graphic for the different screen resolutions, you can simply use one scalable UIView subclass.
Flip'n Football

Send that football flying down field for a touchdown in this simple top down field sports game.
The controls are simple, as a ball spins around you time your release to the next player. Watch out for the defense, they want that ball! Get it all the way downfield to score a gooooooooaaaal!
Flip'n Football isn't just about football either. Unlock soccer balls, basketballs, sharks, boomerangs, penguins, and more! Play on a variety of theme backs that take you off the field and on the beach!
Electronics Engineer Helper

Electronics Engineer Helper is a must have for any professional or hobbyist electronics engineer readers.
Electronics Engineer Helper is an app packed with data ranging from interactive graphs to powerful converters to diagrams for resistors and wires. It can help you figure out the resistance of SMD and through-hole resistors. it can help you measure resistance and ampacity based on wire diameter and composition.
Electronics Engineer Helper also has a powerful search engine for datasheets using 12 different compiled databases. You can download them to your device for offline access as well.
Block 2 Block

We all remember the great challenge that faced us as children. How tall could we stack those blocks?!
Block 2 Block is a simple game to help use relive our childhoods stacking blocks. Blocks keep coming one at a time, time your taps to make sure they drop at just the right spot for optimum balance. When a block falls to the ground, its all over. Playground rules.
When you build your great tower, GameCenter will be there to make sure everyone knows you're the block stacking master. Share your great feat on Facebook or Twitter so the world will know.
Memtrix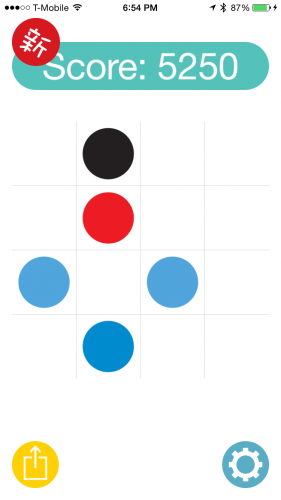 Push your memory to the limits with Memtrix.
Memtrix is a simple game that gets very addictive. Colored dots appear on screen in order. You must tap them in the same order. As you get the hang of it the game will add additional dots until your mind is pushed to the very edge.
The game is endless, as is your potential memory! Keep going to build your short term memory capacity. Try little tricks to help you remember like groupings, colors, lines, etc.
GameCenter will make sure your powerful memory is shown to the world. ;]
Movie Gear

Movie Gear is your one stop shop for all things movies. You can watch trailers, browse actors, see still photos, track a must-see list, and more.
Movie Gear opens to movies trending, in theaters, and upcoming. It pulls all its data from IMDB for ratings and descriptions. You can easily find related movies from the same company.
Movie Gear also imports Trakt.tv user reviews for every movie making it quick and easy to see if the movie you want to see has the right amount of buzz.
Musicality

Musicality is an extension to iTunes to make sure you never miss new music from your favorite artists.
Musicality scans your iTunes library to build a database of artists you like. Then it searches iTunes for new music from your favorite artists.
Musicality also has its own top charts to explore. You can also find new music by genre. While you explore, add new artists you like to your database.
Tap and hold on any album to share it on Facebook and Twitter. Enable notifications and you'll be notified when new albums you care about are released. Buy them on iTunes right from Musicality!
Honorable Mentions
Every month I get way more submissions than I have time to write about. I download every app to try them out, but only have time to review a select few. I love seeing our readers through the apps submitted to me every month. Its not a popularity contest or even a favorite picking contest. I just try to share a snapshot of the community through your submissions. Please take a moment and try these other fantastic apps from readers like you.
Periodic Table Investigator Pro
Sky Blast
Puzzles for Apple Watch
Velox
Little Bell
Contacts Timeline
Skuzzle
i-De
PicTac
Talking Insult Generatore
Clip It!
Bubble Pop Colors
Math Target Shooting
Project Space Monkey
ribl
Circle Swipe
Musicality – Never Miss a Beat
xSpelled
Listington
Emergency Phone Numbers
Where To Go From Here?
Each month, I really enjoy seeing what our community of readers comes up with. The apps you build are the reason we keep writing tutorials. Make sure you tell me about your next one, submit here!
If you saw an app your liked, hop to the App Store and leave a review! A good review always makes a dev's day. And make sure you tell them you're from raywenderlich.com; this is a community of makers!
If you've never made an app, this is the month! Check out our free tutorials to become an iOS star. What are you waiting for – I want to see your app next month!