Readers' App Reviews – November 2016
Check out some apps released by fellow raywenderlich.com readers in November, including an app to make you a rockstar sound mixer!
I hope everyone had a great Thanksgiving. For me, it was a chance to relax and be thankful to build apps on the best platform ever!
You all weren't relaxing too much though. My inbox is full of apps from your fellow raywenderlich.com readers. I've downloaded them all and picked a few to share with you.
This month we have:
An app to make you a rockstar sound mixer
Some games you won't be able to put down
An app to find out whats going on around you
And of course, much more!
Keep reading to see the latest apps released by raywenderlich.com readers like you.
Partly Sunny

We all have a favorite weather app, and my new favorite is Partly Sunny.
Partly Sunny shows the most important information quickly for each location you care about: highs, lows, current temperature, and conditions. Thanks to its integration with Dark Sky, it can also give great information for the near future. For example, it might tell you it will rain in 12 minutes, or snow will continue for 35 minutes.
When you tap a location, you can get a very detailed forecast. You'll see the entire day hour by hour graphed with temperatures and conditions. Even more information is available like visibility distances, humidity, wind speed, sunrise and sunset times, and more. You can also swipe up past the hourly charts to see a chart for the next 7 days with temperature ranges and expected conditions. Each day also has a detailed view.
Partly Sunny is packed with even more features. It has a rain graphs that show upcoming rain based on strength. You can graph hourly wind speed estimations, humidities, precipitation and more. It even has a dark theme for those that really love a little less white.
If you're looking to try a new weather app, give Partly Sunny a try. If you're not looking for a new weather app, give it a try anyway, it just might change your forecast. ;]
MyRedBag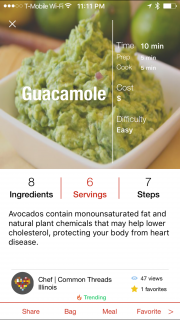 MyRedBag is the one stop shop for recipes and grocery lists.
MyRedBag lets you create and save recipes in an easy to manage index. You can even search recipes from other users to find new ideas for your kitchen. You can also easily add the ingredients from any recipe to your grocery list. MyRedBag even lets you schedule your meals in a meal planner. Then make sure you have a grocery list for everything you need to make it happen.
You can share your list with friends and family to make shopping a group exercise. And you can share your recipes with the community so others can taste your special creations.
You can even find stores in your area and submit grocery orders for delivery or pickup based on availability for the stores in your area.
MyRedBag is the one and only Recipe and Shopping app you should ever need.
iMonstickers

iMonstickers were painstakingly designed to help you express emotions… if your emotions involve vampires, ghosts, or mummies. :]
iMonstickers has a sticker for everything. It's got sad stickers, surprise stickers, scared, shy, and more! iMonstickers were great for Halloween, but we all have a little monster in us year round. ;]
hearEQ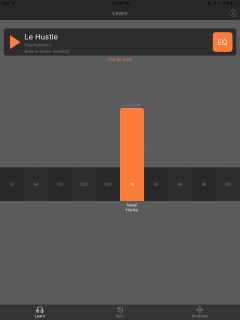 hearEQ will help you learn, train, and perfect your ear for adjusting an equalizer.
The ability to adjust an equalizer effectively can transform music. Whether you're a sound engineer, musician, or just an avid listener, a well tuned equalizer can take music to the next level.
hearEQ will help you understand how each frequency band can affect the music. You'll be able to recreate popular effects or just balance music. hearEQ uses your favorite songs on your device to create custom ear training exercises that will teach you about individual frequency bands and then help you hone in your ear as you practice tuning. hearEQ supports both standard 10-band and 30-band equalizers like you'd find in iTunes or even professional boards.
There is also a quiz mode playing your song with random adjustments and letting you listen and guess the applied equalization. You'll get 10 questions covering ten frequencies and a score to finish. As your score goes up, you should notice an improved ability to hear the difference in the music. Was the music sounding a bit hollow? Probably a 1000Hz cut. Was it too muddy? Probably a 500Hz boost.
hearEQ is great for beginners looking to get into sound mixing. But experts also appreciated the change to clearly control and quiz themselves to improve their sensitive ears.
San Jacinto

The Battle of San Jacinto was an important battle in Texas history. This app brings the book "The Battle of San Jacinto" by James W. Pohl to life on the iPad and iPhone.
The original text is enhanced with pictures from the battle sights today as well as illustrations of how the site looked before. There are panoramic photos of the areas today. You can pan around with your finger or even move your iPad around to feel like you're there. Zoom in for complete details.
There are also maps of the battlegrounds and surrounding area from the Southwestern Historical Quarterly by Jeffrey D. Dunn. You can get an idea of what the landscape was when the battle took place and how landmarks influenced the outcome.
San Jacinto is a fantastic historical reference and immersive learning tool.
Can Knockout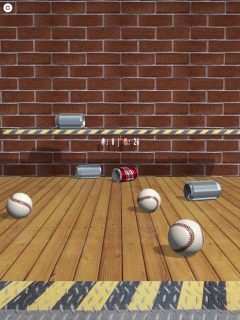 Can Knockout is a classic carnival game right on your iPhone or iPad so you can play anytime.
Can Knockout shows a stack of cans and lets you flick a baseball to knock them down. You only get so many baseballs so you'll have to aim carefully.
Each time you knock down a stack, you'll get a chance at a new stack in a different challenging layout. As you work through levels you'll even encounter some exploding cans.
Can Knockout is definitely addicting. My highscore is 55 if you care to try and beat it. ;]
iPlaySax

Whether you are already great at playing the saxophone or are just getting started, iPlaySax is the app for you.
iPlaySax is an all around companion to saxophone musicians everywhere. The highlight of the app is sheet music specifically written and arranged for the app. They cover a variety of skill levels and styles. You can play the sheet music as is if you'd like and even record yourself as you play.
Each piece is also recorded by a real saxophone professional, so you can also play along or even play a duet! Each part was recorded separately so you can select what you'd like to play and the app will fill in the rest.
There are also instructional pieces. There is a finger position chart for beginners or anyone needing a refresher for individual notes. There are video tutorials teaching you anything from breathing techniques to finger exercises. You can buy additional music right in the app or also check out some free music by sharing the app with friends.
iPlaySax is also completely free! So its definitely worth checking out if you're a saxophone player.
ENY: Events Near You

Ever wonder what might be going on in town? Maybe you're visiting a new city or just at home looking for something to do. Events Near You will help you find something to do nearby anytime.
From garage sales to concerts to pickup basketball, ENY will show you a map of stuff going on around you. You can easily filter the map based on what interests you using keywords. Once you find something you like you'll see various information like number of attendees, times, descriptions, and directions.
ENY will also let you save keywords for events that interest you often. When a new event with that keyword is posted, you'll be notified if you're nearby when it starts. A great way to get keyed into the local events without even looking for them.
Best of all, ENY isn't only useful if everyone in your community uses it. It draws from some other popular services like Meetup. So even if you're the only ENY user in your town right now, you'll still find some events. And it will only get better as you invite your friends. :]
Blob.IT

Some of us are always on the hunt for a new word game. This month, one fell right into my lap. :]
Blob.IT has a bit of a different system. Each level has a time limit and fixed number of letters. Letters will highlight and you must create the hidden word from the highlighted letters.
Not just any word will do. Blob.IT has hand selected words. So it won't be enough to come up with "tone" if the scrambled highlighted word is "note." So you'll need to dig deep sometimes. The time limit is for the whole bank of letters, so you don't have long for each word. Keep going as long as you can before the time runs out.
Blob.IT has GameCenter support with both achievements and leaderboards so you can see how you stack up. You can even challenge your friends to multiplayer.
Hell Birdie

Hell birdie is lost in our world and needs your help to get back to his dark home.
Hell Birdie is definitely challenging. Its a bit similar to flappy bird but with some interested tweaks. You tap to bounce, but taps on the left of the screen bounce you left and taps on the right bounce you right. Rather than flying side to side, you're trying to slowly advance up through obstacles. The combination or upward movement and limited movement controls, makes it an easy to game to pick up but difficult to master.
Hell Birdie is our addicting game of the month. The perfect mix of simple mechanics with challenging gameplay makes it hard to just put down. You always want to get just a little… bit… further! ;]
Where To Go From Here?
If you saw an app your liked, hop to the App Store and leave a review! A good review always makes a dev's day. And make sure you tell them you're from raywenderlich.com; this is a community of makers.
If you've never made an app, this is the month! Check out our free tutorials to become an iOS star. What are you waiting for – I want to see your app next month.