Readers' App Reviews – January 2017
Check out some apps released by raywenderlich.com readers in January 2017, including a game that combines the addiction of poker and tetris!
It's a new year and that means new apps from readers like you!
I've got an inbox full of apps to start the new year off right. I've downloaded them all, tried them out, and picked just a few to share with you.
To kick off the year we have:
An app to help you find bikes for rent
A game that combines the addiction of poker and tetris
An app to catalog your favorite spots near and far
And of course, much more!
Keep reading to see the latest apps released by raywenderlich.com readers like you.
Avélo

More people are turning to bicycles instead of cars around the world. Just like you can rent a car when you travel, you can rent a bike too!
Avélo will help you find the closest bike to rent in over 400 cities around the world.
It's easy to see available bike stations near you. They'll show the number of bikes and racks available at each station. Your estimated travel time to each station is calculated, and with a tap you can get walking directions to the bikes from your current location.
You can also favorite stations to find them easily later, and you can setup proximity notifications so you'll get notified when you're near a station.
You don't even need to open Avélo for it to help you. The app includes a today widget that will show your favorite stations and how far away they are right on your lock screen!
Waypoint: Record and Share your Favorite Places

Waypoint lets you highlight your favorite places and share them with friends and family.
This is great for an ongoing list of your favorite places to visit in your city. It's also useful if you want to remember your favorite places at a frequent vacation area.
You can share lists with friends to keep track of favorite restaurants or boutiques. These lists are easy to share and make a great guide if you're traveling to a new place where a friend has already been. You can also see Waypoint lists from other users to get inspiration of where to go or to see the best places to visit once you're there.
Waypoint is sort of like an interactive yellow pages built by your friends and family. A great way to explore new places!
Poker Puzzle Game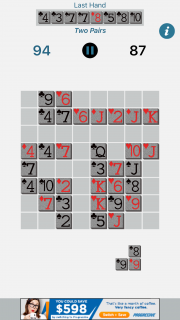 What if you could combine Tetris and Poker? Wonder no longer: Poker Puzzle does just that!
Poker Puzzle is a fun game where you're given Tetris-style pieces to place on the board. Lines are eliminated when there is a valid poker hand in the line. Anything from a pair to a royal flush. The better the hand the higher your score. You can score on both vertical and horizontal lines.
You can compete with friends and other players for the highest score. Its a fun game to pick up and play in short sessions, and is definitely addicting enough to keep you coming back for more.
Super Spelling

Super Spelling is an app to help kids aged 4 and up learn to spell.
Super Spelling shows a picture and lets kids drag and drop letters. Vowels are highlighted green so kids can get a sense where the vowels in the words are.
It even supports both English and Dutch with more languages on the way – so you can teach kids in their native language or even help them become bilingual at an early age! :]
There are more than 400 words spread across 9 levels. They start with easy 3 letter words then move on to 4 letter words shortly. As the game progresses the words get more and more challenging. As levels are completed you get medals. These unlock some fun mini games like memory and word search.
Travel Dubai

Travel Dubai is the ultimate Dubai travel guide. Dubai is famous for its extravagant luxury and modern architecture. The world's largest mall and tallest building are both found in Dubai. This app will help you discover Dubai and all it has to offer. Travel Dubai will help you find the best places to shop, eat, and stay while you're there.
The shopping section will show you all the best malls, list their stores, location, pictures and more. You'll be able to get directions and see the mall hours.
The hotels section will show you all the amazing hotels. You'll get a little more information about each one including services offered, onsite restaurants, key perks like free internet or breakfast. You'll also be able to visit the hotel website or give them a call. Location is also shown so you can get an idea of whats around.
There is a full business directory as well covering every part of Dubai. The directory is open to the public so businesses in Dubai can list themselves in the proper categories. Visitors can also list the businesses they come across.
If you're traveling to Dubai, give this app a try.
Dodo – Lame Jokes

Dodo will give you a little pick me up in the middle of the day with some hilarious jokes.
I call these types of jokes dad jokes. Some call them bad jokes. But whatever you call them, they're funny. :]
There are hundreds of jokes packed in this app. Anytime you need a little laugh, just open the app and you're shown a joke.
You can save your favorites so its easy to pull them up later and tell to friends. You'll definitely be the funniest around with these in your pocket. ;]
The app also makes it easy to share jokes on Twitter, Facebook, or iMessage. And perhaps best of all, you can turn on notifications and you'll get jokes throughout the day.
Drone Leader Solo

While it seems like everyone is working towards reusable rockets and getting to Mars, not one is talking about the important issues: asteroids and aliens!
Drone Leader Solo is an old school arcade space shooter. Its time to practice up on your ability to take down asteroids and aliens. You've got one ship with limited shields. Take down as many asteroids as you can. Watch out for the UFOs hiding in the bigger asteroids, they shoot back!
There are 4 weapon types available to give you some extra asteroid busting power. And of course some shield packs to charge back up. The longer you survive, the higher your rank. Can you make it all the way to Fleet Admiral?
Prompt Me

Prompt Me is an app that takes reminders and timers to the next level with two types of prompts available. Timed Prompts and Activity Prompts.
Timed Prompts are great for workouts or anything that requires repeated actions on a fixed time interval. You simply set the time, number of intervals, and number of repetitions. Prompt me handles the rest. You can receive your notifications with a tone, vibration, or even audible voice. Great for workouts like stretching or yoga.
Activity Prompts are like a todo list on steroids. They're great for recipes or anything with a set number of steps. Each step can have notes, pictures, and even individual timed notifications so your recipe can automatically start a 20 minute timer when you check off the bake step and start another 5 minute timer when you start the cool step.
Prompt me is a new take on reminders and timers being used together in interesting ways. Give it a try and see how it might fit your life.
Mindle Reminder App

Mindle is new app that brings your quick notes, lists, and reminders all together in one app.
You can create either a note or a list. Notes are simple text and lists are simple todo lists. You can easily attach images to both notes and lists. There are easy to use settings for colors and notification tones.
Both notes and lists can have reminders attached to them. Time based reminders fire after a certain amount of time and can repeat automatically if you'd like daily, weekly, monthly etc. You can also create location based reminders that are great for grocery lists popping up automatically at the store or todo lists popping up automatically at work.
Mindle then brings all your notes and lists together in a dashboard. You can quickly scroll through all your notes and lists to see brief snippets, countdowns to reminders, and more.
Where To Go From Here?
If you saw an app your liked, hop to the App Store and leave a review! A good review always makes a dev's day. And make sure you tell them you're from raywenderlich.com; this is a community of makers.
If you've never made an app, this is the month! Check out our free tutorials to become an iOS star. What are you waiting for – I want to see your app next month.