Readers' App Reviews – May 2017
Check out the latest apps released by readers like you, including an app for live flight tracking, and an app that helps reclaim some space on your hard drive!
WWDC is just around the corner. Once the new bits drop, the whole team will be working around the clock to get new tutorials, books, and videos on ASAP. We're definitely excited to see what Apple has in their big bag of goodies for us this year. :]
But before the flood of news hits, I want to share the latest apps released by readers like you. These apps were built with a little help from our tutorials, books, and videos. We love seeing our work live through your apps.
This month we have:
An app for live flight tracking
An app to reclaim some space on your hard drive
An app for business owners
And of course, much more!
Keep reading to see the latest apps released by raywenderlich.com readers like you.
NATS – Airspace Explorer

Airspace Explorer is a really cool live flight tracker for iPad.
You can spin the globe and stop anywhere to see live flights in that area. Its particularly fun to see all the flights over your head right now using your current location. You can zoom in on your local airport to see tons of planes coming and going. Its a graceful ballet in the sky to keep them from hitting each other or slowing down the runways.
The app also lets you tap on a flight to specific information like the type of aircraft, airline, origin and destination, speed, altitude, and more. You can watch over 10,000 live flights in 2D or 3D modes.
This app was developed for NATS, the UK's leading provider of Air Traffic Control Services. Each year they handle over 2 million flights and 200 million passengers in UK airspace. But the app will show flights around the world and its a lot of fun to watch. Download it today and get a taste of modern aviation and the effort that goes into keeping these planes in the air.
Duplicate File Finder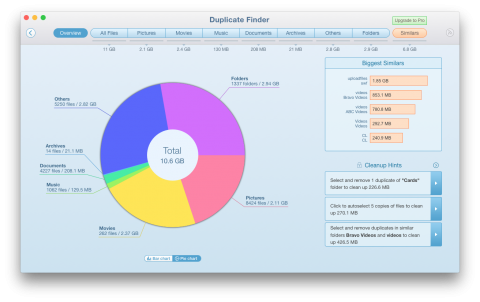 Do you need to clear out some space on your Mac or just want to do a little spring cleaning? Duplicate File Finder is here to help.
Duplicate File Finder will scan any folders you want or even your entire hard drive to search for duplicate photos, movies, documents, folders and more. Its fast scanning algorithm can even check external drives if you'd like. You can also choose specific folders to skip if you'd like.
When it finishes scanning, you'll get a visual representation of all your files and how much space they are taking up. It will even show similar files and folders. Perhaps multiple versions of the same files or folders that have mostly overlapping content. Once you've found all the files you'd like to clean up, you can easily select the ones that need to go and poof, they're all deleted. And your Mac is now squeaky clean.
intervals

Intervals is a unique timer for your workouts. Normally a timer is a simple countdown with a preset amount of time. But Intervals takes it a step farther.
Intervals allows you to create intervals for your timers. You might have it go 30 seconds then 15 seconds then loop. This is great for something like 30 seconds of jumping jacks then 15 seconds of rest then looping a few rounds for your whole set. But you can combine lots of intervals if you want. You could do 1 minute of situps, 1 minute of pushups, 1 minute of jogging, then 30 seconds of rest and loop.
Really, anything you can imagine in broken up timers can be combined into a simple one touch start in Intervals. it will count down the last 5 seconds of each interval for you. And play a chime when each interval ends. And it will play another chime when its time to loop all the way through again. Perfect for CrossFit style workouts.
Motor City

Motor City will teach children to distinguish over 30 vehicles. Each vehicle has a voiceover to help them learn what they are called, it shows the name in large letters so they can begin to read, and it has the sound each vehicle makes to help them make strong auditory connections. All this will lead to great recall overtime.
Motor City is also designed to be fun for young children. It has cars driving around in between matches, each can be tapped to make it go faster in the city. For the gameplay, they are shown 3 difference vehicles and asked to find a particular one. Tapping on the wrong ones remove that card. Tapping on the right one gives me a thumbs up and takes them back to the city until they are ready for the next match.
Best of all, this app is free to try out. You get a small selection of vehicles to try. After that parents can access a special parents section with a 3 second long press to purchase all the vehicles at once for a onetime purchase. Even better, its ad free to make sure no kids are accidentally tapping on ads and being bombarded. Its just a wholesome game designed for kids.
Glycemic Diary

Glycemic Diary could be a must have app for diabetics.
Glycemic Diary lets you easily track your regular blood glucose measurements. It will also help you remember to take those measurements with a built in timed notification you can set to your preferred interval.
You can easily check your history of measurements yourself in the app or you can also easily export a PDF for printing or emailing to your diabetes specialist. You can also see graphs analyzing your monthly progress.
Büro – manage your shop business!

Büro is an app for shopkeepers and small business owners.
Büro does it all. You can manage your stock, sales, inventory, clients, prices, dealers, orders, and sales history. You can track your sales trends. You can generate orders to suppliers. You can track orders for individual customers. The list goes on and on.
Your entire team can use Büro with separate account types limiting access to only what they need for their jobs. You can see a map of your staff if your business is mobile. You can even receive push notifications for every action if you'd like to keep up to the minute tabs on everything happening with your business.
Büro has so many features, the list doesn't fit here. So go check it out if you're running a business. Its free to get started and definitely worth a look.
Miss D

Miss D is much more than just a dictionary.
Search any word in Miss D and you'll get the definition sure, but you'll get plenty of extra information too. You'll get a wikipedia entry, translations, and even related emojis. Miss D handles more than 90 languages and each word can be automatically translated into 10 other languages of your choosing. You can even hear the native translation with just a tap.
Miss D is particularly special because you can even make up your own words! Is there a slang word you use thats gaining traction? You can enter it into Miss D and it will share it with everyone. If it receives 100 likes within a month, its now part of the global dictionary. After 30 days if its not getting much love, it will fade away.
Want to learn a new word? Shake to learn anywhere in Miss D to get a new word to try. Bookmark words you find interesting and would like to come back to.
Where To Go From Here?
If you saw an app your liked, hop to the App Store and leave a review! A good review always makes a dev's day. And make sure you tell them you're from raywenderlich.com; this is a community of makers.
If you've never made an app, this is the month! Check out our free tutorials to become an iOS star. What are you waiting for – I want to see your app next month.