iOS 7 is almost here. But we managed to squeeze in one more set of app reviews before Apple drops the NDA and we start seeing some great new apps taking advantage of what iOS 7 has to offer.
Like every month before, we've got some great apps:
A game that turns your iPhone into a bunny bopping musical instrument
Some great social accessory apps
A really cool 3D medical app
And of course, much more!
Read on for awesome apps and games made by your fellow readers!
Pocket brawlers
Pocket Brawlers is the silly arcade party fighter you've always wanted for your iOS device.
Pocket Brawler puts more than 20 different characters in your pocket so you can battle your way to supremacy. It features both a level campaign and bluetooth multiplayer.
Battle through challenges to unlock bosses, then take the bosses into battle on your side to beat your friends!
FastFeed for Tumblr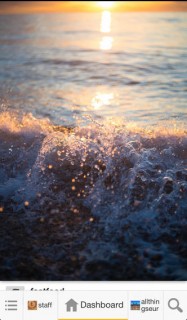 FastFeed makes wasting time on Tumblr even easier.
FastFeed gives you a new tab-based interface for viewing Tumblr on your iOS device. FastFeed has tab histories, unlimited tabs, and you can even hide the tabbar for a fullscreen experience.
FastFeed prides itself on supporting every public feature the Tumblr API offers, making it a great full fledged Tumblr app.
Share-in
Share-in makes sharing photos from your latest Foursquare check-in with your friends a breeze.
Share-in automatically groups your photos taken by each Foursquare check-in they are associated with. Then it finds the friends that checked in with you, and lets you share photos with them over email, messages, twitter, dropbox, and more.
Share-in is a great companion to Foursquare for anyone share a lot of pictures after the fact.
Stardrop Blaster
After the fall of the evil Xenorg, some evil survivors remain. Help the Stardrop hunt the last evil aliens and blast them!
Stardrop Blaster is the sequel to Stardrop Sprint. Blaster is an endless sidescroller with simple tap to blast controls for destroying whatever the evil aliens throw at you.
There are several powerups and countless aliens that will challenge you to the end (get it?).
Bumper Pool Deluxe
Bumper Pool Deluxe is a great universal app bringing strategic bumper pool to iOS.
Bumper Pool Deluxe lets you play turn-by-turn with your GameCenter friends, or in real time with local pass-and-play multiplayer. It also has a solo challenge mode if you're just looking for a quick fix.
Challenge your friends on the leaderboards and earn all the achievements. Its a good looking game and its 50% off for the next few days!
Paragrams
Paragrams is a fast-paced word game that puts you and your opponent in cerebral combat! ;]
Paragrams is a simple game. Letters appear one at a time, and you need to use them to build a word. The sooner the better because your opponent is using the same letters! But you aren't safe there. You can even steal opponents words and add additional letters to increase your own score!
Paragrams also has nearly 100 objectives for solo play as well. Maybe Paragrams will be the next big thing. :]
Bunny Jam
Bunny Jam lets you bop bunnies on the head while creating beautiful music! Well sometimes its beautiful. ;p
Bunny Jam has a bunch of classic songs and as you bop bunnies they play beat by beat. Miss a bunny and your song quickly turns sour.
There are also powerups that affect the sound like a disco turtle that turns Autotune on anything you play! Lol
Paint & Music Kids
Paint & Music Kids is a simple app with 72 templates to choose from.
There is a wide spectrum of colors and easy to use interface. While painting, instrumental music plays in the background.
Its a very simple app but great for keeping kids entertained while exploring their creativity.
ArchieMD 3D Health: Anatomy and Health Essentials
ArchieMD is a very powerful app with over 10 years of medical information packed in.
ArchieMD has over 100 3D animations showing common health conditions, procedures, and anatomy. It also features an interactive 3D human body with over 800 parts. The 3D body is alive with a heartbeat and breathing while you rotate, zoom, and pan in real time.
There is a searchable database for a collection of videos, animations, and information. This is a great app for the curious and a must have for the professional.
Tiny Survivor
Tiny Survivor is a very cute game where little Skippy is just trying to reach the canopy of the jungle.
Using Skippy's tongue, help him navigate up the trees collecting fruit for extra points. But watch out for spiders! No one likes spiders.
The game play is very fun and addicting with great physics based flinging and slinging.
Modular Synthesizer
Modular Synthesizer puts an entire custom synthesizer in your pocket.
Modular Synthesizer has a wide array of modules with a few free in every category and a large store to mix and match from to build your own synthesizer how you want it.
Audiobus and background audio modes bring interactivity with other apps while CoreMIDI allows you to interact with external accessories to control your synthesizer. And ofcourse you can record and export live performance to Soundcloud, Sonoma Audio Copy, email, or iTunes file sharing.
Chompy Chomps
Chompy will help your kids learn the alphabet and over 300 sight words.
Chompy floats along in the ocean looking for letters to chomp. Simply steer him into the right letters to get some points. Avoid the Jellyfish though!
As you learn the alphabet Chompy moves on the words, where you'll need to be a bit selective about which letters you eat.
This is a great educational game for kids learning their alphabet.
Honorable Mentions
Here are the apps that didn't get reviewed. Remember it wasn't a popularity contest or even a rating contest. Forum members got priority among other factors. Your apps were great and I'm sorry we didn't have time to review them all!
Squirrel Letters Numbers and Shapes
Where To Go From Here?
As always, I really enjoyed your apps! Keep up the awesome work everyone. And if you're reading this thinking, "I wish I could build a great app/game". You're in luck! Check out our free tutorials! What are you waiting for, I want to see your app or game next month!
If you've already used our tutorials in an awesome app or game, I want to know! Submit here!