Just because Apple didn't announce anything this month, that didn't stop you guys! There were a ton of apps submitted this month.
This month we've got:
A bird that lost his girlfriend
Ninjas with rocket launchers
An app to help you with your guitar lessons
A dog approved baseball game (woof!)
And much more!
Keep reading for some app reviews for awesome apps made by your fellow readers!
Super Bird Adv.

Don't you hate it when you're on vacation and an evil Kong kidnaps your girlfriend? Super Bird does!
Super Bird Advance is your classic platformer polished to shine. Super Bird has three unique forms, nine special abilities, and more add on items in the shop. There are three worlds with 32 levels featuring 30 different obstacles in your way.
Super Bird Advance is a very well made game packing universal and GameCenter support with graphics and music you'd expect from this classic style game.
Ninja Vs Demons

Ninja's have been missing out using swords instead of pistols and rocket launchers.
Ninjas vs Demons is a side scroller that pits your pistol carrying ninja against swarms of zombie and demon ninjas out for blood. Luckily you can update to machine guns and rocket launchers to really bring the heat.
Make sure you track your zombie ninja blasting rank on the GameCenter leaderboards.
Angry Bards

Angry Bards was not at all what I expected.
In its 8-bit glory, Angry Bards surprised me with fun, tap and blast gameplay. Fighting knights and wizards using music notes doesn't sound effective, but I was racking up some points!
I felt like I barely scratched the surface of this game after 20 minutes of playing. There are 8 beards and 15 costumes to unlock. As well as plenty of levels to keep you going.
The soundtrack was by far my favorite part.
Smart Riddles

Smart Riddles caught my attention before I had a chance.
Just opening the app, I was presented with a riddle. And I was immediately hooked. Swiping through riddle after riddle. It didn't hurt that the app was very nice to look at.
You can favorite riddles for later, share them, and search through your catalog. There is an in app purchase to unlock an extra 500. Well worth the $0.99 if you're into riddles.
Frog Bog

Frogger meets sliding puzzles.
Frog Bog is was immediately addicting for me. Its similar to a normal sliding puzzle where you try to solve it in as few moves as possible. However its got cute graphics and a few twists.
It has a few extra elements in place that can really open up some unique solutions to each puzzle. Such as instead of simple moving frogs to can tap them to use their tongue, drag and release to aim them, tapping on bugs themselves squashes them, and leapfrogging can really create some complex sequences.
Slash Slash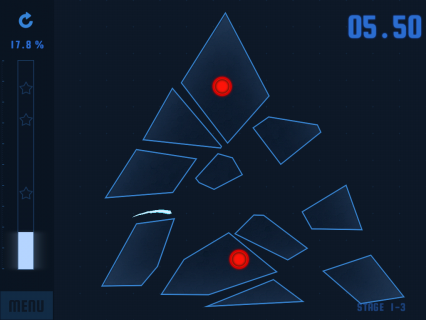 Division and geometry have never been so fun!
Slash Slash is a frantic game of slicing. Each level presents you with a shape and a time limit. Your job is to break the shape down into small enough pieces it disintegrates and gives you points. The goal is 100% disintegration.
As levels increase in difficulty, obstacles are placed within the shapes making accuracy more and more important.
Chord!

Chord! is by far the most comprehensive app I've seen for learning chords and scales.
Chord! has every possible chord calculated as well as every major scale. Its unique in that rather than a database, it generates possible chords and matches them to scales. You can search or just browser a list. It offers several views from chord sheets, to sheet music, to a full guitar neck.
Saving and Favoriting are built throughout the app no matter how you find or make the chords. This app is excellent for beginners and experts alike.
If you've ever been curious how Django managed to play with two and a half fingers, this app is for you! :]
Cat Baseball Pro
Cat Baseball allows me to fulfill my secret desire – smashing cats with baseball bats! j/k I would never do such a thing – except in a game that is :]
Cat Baseball is a fun game where cats are lobbed at you and using your finger from the strike zone, you swing to hit them. A good hit can result in a homerun. There are all kinds of coins floating above the field, waiting for your flying cat to collect them.
Game play is simple and addictive. And the artwork is hilarious. That poor cat LoL >:]
Reversi King for iPad

I'm a big fan of Reversi and this is a beautiful rendition of it on the iPad.
This is classic Reversi style gameplay with some great graphics, pass & play multiplayer, and computer play. Reversi, sometimes called Othello, is a simple board game with white and black pieces.
Placing your pieces to sandwich the opposing players pieces converts any middle pieces to your color. When the board is full, the player with the most pieces wins.
Want to learn how to create your own iPad board game like this? Check out our iPad Board Game App tutorial, linked below!
Splash Math Kindergarten

Splash Match Kindergarten is a cute app for younger kids getting into early counting, addition, subtraction, etc.
This app is very cute and allows kids to collect jungle animals as they work through problem sets. The animals live on a small jungle world where they can be dragged around and tapped for different interactions.
The app also has nifty parent features allowing you to receive weekly progress reports and track how your kid has been doing while playing on their own.
Tower Zoo

Stacking animals has never been so fun!
Tower Zoo is a sort of 3D board game that pits you against the computer or other players. Players take turns placing animal blocks on the board. Special placement causes them to automatically stack allowing you to make the most of the limit board space.
You'll need some strategy to get the upper hand. Games go quick in this tic-tac-toe style game. I loved see the little animals come to life as blocks!
Dream Tim

When skeletons and giant rats invade your dreams you've got your work cut out for you.
Dream Tim is a side scrolling platformer that will keep your fingers moving. From swiping away skeletons to tapping to fly, this game has it all. Killer powerups, lots of coins, unlocks, and more.
This game has taken the best of all side scrollers and packed it into one cool game that I couldn't put down.
Hit The Lights

Hit the Lights is an easy to learn, hard to master puzzle game built around reflecting lasers with mirrors.
Laser emitters are scattered about the board along with receivers. Your job is to position mirrors just right to refect the light where it needs to go. I loved the graphics in this game. Its also one of the few I know that support diagonal lasers which left me retrying levels looking for extra solutions.
There are tons of levels to keep you busy, while GameCenter highscores and achievements round out this awesome game.
Forest Ride

"OMG theres a lion attacking me!" – Me, 2 minutes into the game.
Forest Ride is a classic side scrolling physics driving game with a twist. Animals sometimes block your path and they have the super… er, human?… strength to toss you around like a ragdoll.
Somehow the animals always catch me off guard leaving me frantically driving for my life. Addicting to say the least. ;]
Unlock more vehicles and terrains if you can!
Asteroid Jumper

"I always wanted to be an astronaut." – Theres an app for that!
Asteroid Jumper puts you in command of the Apollo Lander as you jump from asteroid to asteroid. Simple tilt your device to aim your ship through space, then tap the screen to jump.
Its all about landing successfully on as many asteroids as you can in a row. Highscore: 15! Beat that!
Honorable Mentions
Here are the apps that didn't get reviewed. Remember it wasn't a popularity contest or even a rating contest. Forum members got priority among other factors. Your apps were great and I'm sorry we didn't have time to review them all!
Where To Go From Here?
As always, I really enjoyed your apps! Keep up the awesome work everyone. And if you're reading this thinking, "I wish I could build a great app/game". You're in luck! Check out our free tutorials! What are you waiting for, I want to see your app or game next month!
If you've already used our tutorials in an awesome app or game, I want to know! Submit here!