Readers' App Reviews – March 2012
Note from Ray: I frequently get emails from readers who have learned from tutorials on the site and have released their own apps on the App Store. I thought it would be cool if we highlighted a few of these on the site! This way readers can get more exposure for their apps, and everyone […]
Note from Ray: I frequently get emails from readers who have learned from tutorials on the site and have released their own apps on the App Store.
I thought it would be cool if we highlighted a few of these on the site! This way readers can get more exposure for their apps, and everyone can see what other fellow readers have created.
Fellow iOS dev Ryan Poolos (@EmperiorEric) has been kind enough to volunteer to be our official "Reader's Apps Reviewer." He's checked out a bunch of recently released readers apps, and has shared a few words about them. Enjoy! :]
This is a post by Reader's Apps Reviewer Ryan Poolos, an iOS Developer and founder of Frozen Fire Studios. Checkout his latest game, Cyborg Livestock.
Welcome to the first ever Reader's Apps Reviews column on raywenderlich.com! We have a great variety of apps submitted by our readers – iPhone, iPad, and even Mac apps, ranging from games to utilities.
Keep reading to check out the apps. I've had a lot of fun playing with them all so I'm sure you will too!
Pink Powerful
This is a very cute app designed by a young girl named Sofia Grace, with the help of her mom and brother. The app has a very positive message, do at least one "Pink" thing everyday to help others. A Pink thing is something that improves you and those around you to brighten your day. The app has a song, video, and activity recommendations inside.
Space Boost
Its time to go into outer space! Space Boost is a fun game where you control a spaceship by tilting your device. You goal is to dodge and destroy asteroids while collecting stars. Stars can be used to upgrade your spaceship. This ones universal too so you can blast asteroids on your iPhone/iPod and iPad.
Bird Blasting
Like a cross between Simon and Duck Hunt this game is very fun. Birds fly around the screen and its your job to tap them in the same order shown before each level. My favorite part is when they explode instantly when you touch them! This is another universal one too, so enjoy your Bird Blasting on the go or on the big screen.
Mission 452
Another space adventure game this time with lasers! In this side scrolling space shooter, you tilt to control your space craft while taping to shoot with automatic aim. The backgrounds feature awesome planet graphics. This is another universal game so don't be afraid to pull out your iPad and check out the planets on the big screen. With GameCenter, Twitter, and even iCade support this game will keep you busy!
Fun Memory
A classic memory game favorite, with cute graphics and clean interface. This tile matching game will keep you busy with several skill levels and same device multiplayer. Its another universal game, and best of all this ones free!
Dave vs Cave
Dave vs Cave is a fun arcade style adventure game. You're Dave and you find yourself in a cave :] To get out you've got to dodge icicles, meteors, skulls and more while collecting power ups, coins, and stars. Take your coins to Barnie's shop to buy things to help Dave get out of this wretched cave. This game has a ton of replay value and very cool graphics. Its universal, has 3 different difficulty levels, and you can choose between accelerometer controls or touch controls.
Chicks Rock

This is cute game made to raise awareness for the Ovarian Cancer Research Fund. You tilt your iPhone to help your chick dodge falling rocks as long as you can. With GameCenter integration you can see whose best between your friends.
And this is another universal app so be sure to try it out on your iPad. Best of all this ones free, so share it with friends and help raise Ovarian Cancer awareness.
Space Sudoku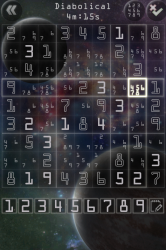 Classic Sudoku with beautiful parallax space backgrounds. Seriously the backgrounds on this game are awesome, just try tilting your iPhone on any page. Its got 6 levels of difficulty so everyone can find their comfort zone, auto checking support, and notes. The controls are intuitive too. Try out the free version and if you like it definitely worth buying the paid version.
Zombie Blitz
This is an awesome top down, zombie survival game. Its got simple joystick controls and plenty of zombies for shooting. There are weapons and modifier pickups as well as upgrades you can buy with Koins you collect from killing zombies. One of the coolest features I like is it has global stats for zombies killed and time played on their website. You can access it in the game by clicking global on the stats page. I even verified its live by refreshing their website while I played, very cool.
Astro Math
This is the only one of the bunch thats iPad only. On the one hand its a fun side scrolling space shooter. But then you can also do some math word problems to earn more money to upgrade your ship. Its got GameCenter support so you can see how your score stacks up. The graphics have a very cool, unique style. And of course theirs plenty of space rocks and aliens to shoot down in between learning sessions.
TapPoll
This simple quiz/polling app lets you set up questions to share with friends or the public. Questions are grouped into banks. It comes with several banks built in just for fun including, Math, Geography, and US State Capitals. The interface is simple and clean.
When Pigs Fly
This is our second app from Mr. DenHartog. This is also our only app that is FULLY universal working across iPhone, iPad, and even Mac. This is a fresh take on a game we're all familiar with, Tiny Wings. But they've thrown in a few special additions including seasons and alligators! The graphics on this game are too funny. Its integrated with GameCenter for both high scores and achievements.
GloveBox
Last but certainly not least, we have GloveBox. This app will really help you manage your cars. You can set up reminders for Oil Changes, Inspections, Insurance Renewals, and more. With a free account or by signing in with Facebook you can sync your cars and reminders across multiple devices through the cloud. You can have as many vehicles as you want with pictures and all the info you'll need even if you're away from your car. This app is a must have for families with multiple cars.
Where To Go From Here?
Thats it for March! Looking forward to the apps you make next month!
If you are a reader of this site and would like to be considered for this column, click here!
Note from Ray: Please let us know if you enjoyed this column and would like to see more Reader's Apps Reviews in the future!

This is a post by Reader's Apps Reviewer Ryan Poolos, an iOS Developer and founder of Frozen Fire Studios. Checkout his latest game, Cyborg Livestock.