Readers' App Reviews – February 2014
Check out the best apps made by fellow raywenderlich.com readers in February 2014!
This February, a lot of us have been snowed in. And what better to do than curl up on the couch with some great apps made by the community!
This month, we have some great apps to check out:
A tool every developer needs in his pocket
A game to help you brush up on your math
And app for all those gifs
So put down those snow shovels, and pick up these great apps!
Game of Cakes

Game of Cakes is a very cute tetris style puzzle game.
You are a pastry chef who needs to arrange his cakes just right in the box before handing them off to the hungry customer. And wow, those cute little cakes sure are appreciative when you get it right!
With over 130 levels, it will definitely keep you entertained for a while. And bonus points for the fun music!
The Stat App

We all want to keep an eye on our apps after release. The Stat App helps with that.
The Stat App integrates with AppFigures offering you a clean, simple, client for your iPhone. Never be without the latest sales and downloads of your apps. You can check them by country or just get a weekly, monthly, or alltime total.
What are you waiting for? The first app is free!
Quiz Duels

Quiz Duels is fun app to brush up on your trivia.
Quiz Duels uses GameCenter to pit you against friends and random players in epic duels of knowledge. All you have to do is answer the question before your opponent and you win.
There are weekly tournaments, plenty of categories, and a slick interface to make sure this is your favorite trivia app yet.
Hexuma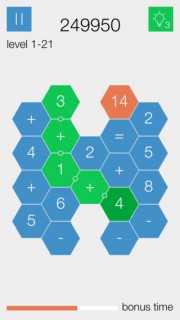 Hexuma is mathematic puzzle game I've been waiting for!
Hexuma is simple. First hexgons appear holding numbers of mathematic operations. You start at the green hexagon and drag across to the red. All you have to do is make sure the equation you create is balanced when you reach the end.
Challenge GameCenter friends on the more than 300 levels while racing against the clock for the highest scores.
JoPlan

JoPlan lets you plan out your next trip before you go with multiple destinations.
JoPlan is a great app if you have multiple stops to make on the way as it finds the optimum route for you to hit all your stops.
JoPlan supports Google Maps for turn by turn navigation or can be used on its own as an overview navigation.
Upside Down Run

Upside Down Run is a side scrolling platformer with a twist — or should I say a flip. :P
While running, you can swipe up or down to start running above or below ground. Each side has its own obstacles and benefits. By switching back and forth intelligently you can run the farthest.
Its got some cool physics and graphics. I especially like running into snowmen because they bounce back. :]
Protect the Cat

This poor cat is the victim of some serious rat bullying. They won't stop plaguing him. ;]
Your job is to build defenses with whatever's available from crates, to bombs, to wrecking balls. You've got to build a fort for the kitty so the rats can't get to him.
The graphics are cute and the physics keep it interesting as you're bombarded by evil rats.
Humid – Weather Forecast Made Simpler

Humid is a weather app for the minimalist.
Humid gives you the most important information at a glance, but indepth temperatures, forecasts, and other information is only a tap away.
Humid also has a text to speech feature allowing you to listen to your weather rather than read it. Very cool for those quick checks while you put on your coat.
Orbsorb

Orbsorb is an awesome arcade style game for iOS.
You control a single Orbsorber that is bombarded with all sorts of orbs. Your goal is to block the unwanted orbs and absorb the same color orbs.
The game has proven extremely addicting. Its got a fun techno soundtrack and GameCenter integration to keep things interesting.
Tommy's Farm

Tommy's Farm is a simple app for kids that lets them interact with a farm on their iPads.
Its got some very cute illustrations and animations along with its various activities from puzzles to harvesting corn.
I let my nephew have a go at it and he loved interacting with the animals like feeding the horse or washing the pig.
No ads or in app purchases keep the game safe for your little kiddos.
Zest – Share Funny GIFs and Memes

Zest is an app for wasting time. No other app could consume more of it needlessly. But Gifs and Memes are irresistable.
Zest has the best of trending Gifs and Memes. You can scroll through hundreds of awesome Gifs and Memes then share the best with your friends over iMessage, Twitter, and more.
Mark the classics as favorites and search for that one you just need to see again.
Kroms

Kroms is an fun arcade game where your job as a chocoskyscraper builder is to capture the kroms flooding the construction site.
The easiest way for Tony to do this is to capture them in small rooms. The smaller the better to teach the Kroms a lesson.
Simple swipe controls, colorful graphics, and a fun soundtrack make this game a hit. It takes just the right amount of reflex and strategy combined to breeze through the 90+ levels.
Honorable Mentions
I had some apps I couldn't review. Don't feel bad, it wasn't a popularity contest or even a rating contest. Forum members get priority, among other factors. I make time to try out every app that comes across my screen, one day I'll find time to write about them all too!
Where To Go From Here?
As expected, I really enjoyed your apps – it's great fun to see what fellow readers make each month.
If you've never made an app, we've got you covered! Check out our free tutorials to become an iOS star. What are you waiting for – I want to see your app next month!
If you've already made the next great app, let me know about it! Submit here!