Readers' App Reviews – September 2014
Check out apps by fellow readers in September 2014: a game to teach you about art, a 3D editor for kids, and much more!
September is almost over and the world is home to not one, but two new iPhones!
The new screen sizes of the iPhone 6 and iPhone 6 Plus bring new challenges and opportunities to developers.
With more screen than ever before, our apps have a chance to offer even more unique interfaces taking advantage of the multitouch we all take for granted.
With our latest OS and devices, our favorite indies have been busy. ;] I've got an inbox full of apps and I'm excited to share a few with you for September.
This month we've got:
A game the teaches you about famous art
An app that makes markdown a breeze
A 3D editor so easy to use its for kids
And of course, much more!
Keep reading to learn more about your fellow readers' latest creations.
Blox 3d Junior!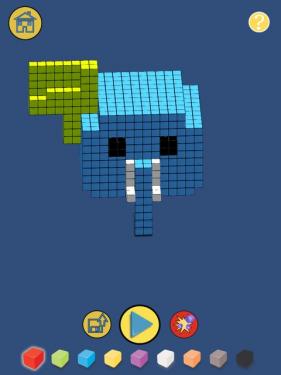 Blox 3D Junior is a very cool 3D shape editor so easy its designed for kids.
Blox 3D focuses on voxels. You can create them in any direction in 3D space using a variety of colors. The creations are incredible. You can zoom and spin your creation to see it from every angle. This is an app that really showcases how awesome the iPad is.
You can save up to 38 models to show off later. The app also comes preloaded with some fun models and a mode than builds them automatically for very young kids to watch and learn from.
GREG

GREG is a puzzle game that uses your love for matching to build your speed for addition.
GREG is a simple game, a grid of numbers called tokens sits below a target number and timer. Select tokens that add up to the target number before time runs out, simple.
With some special tricks you can gain extra points, like selecting tokens in a row or column. And some tokens will be highlighted with powerups that only last for a small time.
A full bank of available achievements will keep you fighting for that final match.
Huerons

There can only be one! Hueron that is.
Huerons is an addictive puzzle game focused on combining Huerons down to just one. A tap on an empty spot between two Huerons will trigger a merge. Huerons come in different colors and sometimes must be converted before the puzzle is complete.
Order is everything. Combine too soon and you could be left with Huerons unable to be combined.
With over 100 puzzles, Huerons will keep you busy for awhile. And you can always go back and take a shot at solving a puzzle quicker than before.
Spend Stack

Budgeting can be a hard thing for some. Spend Stack is here to help.
Spend Stack lets you organize stacks of items be that groceries, furniture, or in my case electronics I've got my eye on. ;]
Each stack lets you create items with prices, prefilled tax rates based on location, and a category. You can drag and drop to order them based on your priority. And each stack will keep track of a total for all items.
I normally do this in a sticky on my Dashboard, but having a dedicated app for it is already proving nicer. The app also has themes per stack, so your new toys Stack can have a nice dark theme while gifts for your family can have a nice colorful theme.
Mixpix

Pictures are boring. MixPix are fun!
MixPix offers hundreds of add ons for your photos to spice them up. Its got speech bubbles, beards, glasses, frames, borders, hair, hats, and more. And before you get to work on your fun photo, make sure its a good one. MixPix is also packing image filters for exposure and color correction along with blurs and overlays.
When you're finished perfecting your master piece, Twitter and Facebook export is built right in. And of course its got export to PhotoStream, iMessage, Instagram, etc.
Summbot

Summbot is a unique app that aims to help us consume our favorite articles quickly and efficiently.
Summbot takes both free text and a direct URL. Summbot analyzes your content for the most important parts. Entire articles are converted to a simple bullet list of the key take aways.
Summbot's UI strips away the chrome and leaves just your content for quick efficient reading. My testing with Summbot showed it really works. I was able to condense 1000 word articles into just a handful of bullet points. Reading the bullet points first and the article second, I was able to see that I had gotten the gist of the article already. The algorithms are really quite amazing.
Art Scrambles

Puzzles are almost universally fun. I love a good puzzle large and small.
Art Scrambles brings this fun to your pocket. Art Scrambles has over 6 different types of puzzles generated from over 600 different works of classic art. It includes art from artists such as Leonardo da Vinci, Vincent Van Gogh, and Hans Holbein the Younger.
Art Scrambles saves your progress per painting so you can start and continue anytime with multiple puzzles in progress.
Tap's Up

Tap's up is a simple arcade game thats simply addicting.
Tap's up has just 4 things to learn. Blue faces need a tap to cheer up. Gray faces need a double tap to wake up. And Red faces should be left alone because they've just shattered their iPhone. Or something like that. ;]
Basically each level has a grid of faces, and you've got less and less time to cheer up the Blue and wake up the Gray.
Its simple never ending gameplay challenges and relaxes you. GameCenter integration lets you brag to friends as well as Challenge them to beat your latest score.
ClarityHD

ClarityHD is a yet another content creation tool for your iPad. You know, that device supposedly only capable of consumption.
ClarityHD lets you write without distractions while taking full advantage of Markdown to dress up and organize your writing.
ClarityHD's editor automatically detects links, phone numbers, and dates. With a full web browser built in, you can view links right inside ClarityHD. When you're finished you can preview it in the app to see how your Markdown renders.
ClarityHD also packs Dropbox syncing for when you're back at your desk. Or if you prefer, it can export to HTML with a beautiful theme. It also offers sharing over Facebook, Twitter, iMessage, and Email as you'd expect.
Dev Cards

Dev Cards is an app for us. Dev Cards offers a way to study concepts from iOS, Objective-C, Xcode, and more. Dev Cards even has support for our latest tool, Swift.
Dev Cards has flash cards for learning, True False quizzes to test along the way, and Multiple Choice tests to verify what you've learned. Dev Cards supports spaced recognition as well. So as you test yourself, questions you get right several times in a row will be hidden for awhile then brought back to test your longterm knowledge.
Dev Cards is a must have for any beginning developer. A great tool for those times you're away from your computer. Learning is often accelerated by immersion, so having this tool available everywhere is a great opportunity for all of us.
Peeps

Peeps is a new social app focused around video. Peeps is built around sending short videos to your friends instead of boring messages or still images.
Peeps works off your phone number. This means sending video messages to your Peeps doesn't require your friends download the app. Peeps will forward your message on to your friends using normal MMS video messages.
Your messages are organized into long running conversations. Peeps also supports group conversations for all your friends sending videos back and forth.
Honorable Mentions
Every month I get more submissions than I can handle. I give every app a shot, but I can't write about them all. These are still great apps made by readers like you. Its no a popularity contest or even a favorite picking contest. I just try to get a glimpse of what the community is working on through your submissions. Take a moment and checkout these other great apps I didn't have time to showcase properly.
Run, Run Away!
Egg Hunt Mania
RoboBird Space
Firing at ICE
Calls Game
Math Bomb
Balloon Saw Massacre
Greenchick
Push the cap!
Truth or Dare
Fun with Flags
Retro Formula
Retro Tunnel
Cave Dash
Tap on Shape
Zig Zag Bird
Month Calendar 2
AR Tap Shooter
A Bird Called Mike
Monster Attack
Exert It
BMI Explorer Pro
4 Pics 1 Word Puzzle: Guess It!
Where To Go From Here?
Each month, I really enjoy seeing what our community of readers comes up with. The apps you build are the reason we keep writing tutorials. Make sure you tell me about your next one, submit here!
If you've never made an app, this is the month! Check out our free tutorials to become an iOS star. What are you waiting for – I want to see your app next month!