iOS Apprentice Third Edition: Print Version Now Available!
The print version of the iOS Apprentice Third Edition is now available, fully updated for iOS 8 and Swift – learn how to get your copy! :]
Update 12/22/14: We have randomly selected the lucky winner – bev! I will be in touch soon to arrange delivery. Thank you all for entering! :]
Good news – the print version of Matthijs Hollemans's popular book the iOS Apprentice Third Edition is now available!
This is the print version for the brand new third edition, which is fully updated for iOS 8 and Swift.
Since the book was previously in Objective-C, this is a massive update – an entirely new programming language!
Keep reading for some more pictures of the new book, learn about a discount for iOS Apprentice PDF customers, and enter for one last giveaway!
The Book
As you know, the iOS Apprentice is huge – over 800 pages! In fact it was so large that we had to make a few chapters downloadable so it would fit :]
Here's a picture of what the book looks like next to my iPhone 5:
The print quality came out great, and is easy to read and thumb through. Here's what the inside of the book looks like: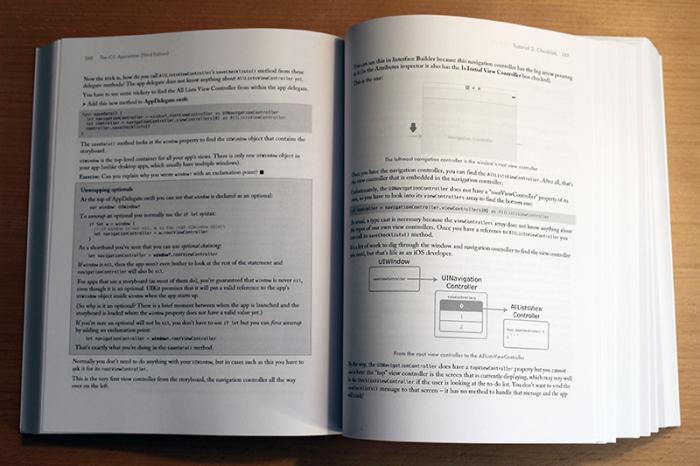 Note that on our store page, we have two options:
Just the PDF. Nothing's changed here – if you prefer electronic books you can buy just the PDF same way you usually would.
The PDF + Print Version Bundle. This gives you the best of both worlds. It also saves you a lot of money – you're effectively getting the printed books at a big discount compared to buying them separately.
Note we don't offer an option for just the printed book. This is because we like to keep our books as up-to-date as we can, and we want to be able to give all our customers access to these updates (in PDF form). For example, iOS Apprentice PDF customers have received 4 major updates since it was first released (from iOS 4->5->6->7->8)!
Discount for iOS Apprentice PDF Customers – 1 Week Only
If you bought the PDF version of the iOS Apprentice, you are eligible for a special discount on the print version, to effectively "upgrade" your order to the PDF+Print bundle.
I will send all PDF version customers an email with instructions for how to upgrade your purchase in a few minutes.
If for some reason you do not get the email, just contact me and we'll get it sorted.
Note this discount will expire in just 1 week, so if you're interested snag it fast! :]
The Giveaway
One last thing. To celebrate the launch, we're giving away a free copy of the book!
All you have to do to enter is leave a comment on this post – this Monday we'll choose 1 lucky winner to get the free copy.
We already announced the winners of the other two giveaways, so this is your last chance to win a free print book :]
That's it – we hope you all enjoy the print version of the iOS Apprentice Third Edition! If you'd like to pick up a copy just check out our store page.
Matthijs and I hope you enjoy the new third edition print version! :]