Readers' App Reviews – June 2015
Check out some apps released by fellow readers in June 2015 – including a tool all Xcode users will love!
June was a busy month for many of us. WWDC brought us so many new things to try out and explore. While we've all been busy building brand new things, some of us were busy shipping!
On this month's docket we've got:
A parking meter's best friend
A tool all Xcode users will love
An alarm clock that helps you sleep
And of course, much more!
Keep reading to see a snapshot of what the fantastic RW community built this month.
Shortcode

Shortcode is a companion tool for all of us who spend long days in Xcode browsing through large projects.
Shortcode brings the power of the Xcode project navigator right to your iPhone. While your iPhone is connected via USB, Shortcode allows you to navigate through your Xcode project with ease. You can browse the entire project hierarchy, see an element list for the file you're in, or see the Superclass browser list.
You can also customize your project to get even more power out of Shortcode! Shortcode supports a special comment syntax similar to TODO and FIXME allowing you to offer custom bookmarks for yourself to jump through your code at the speed of touch.
Park & Stride

Never forget where or when you parked or miss your parking meter again using Park & Stride.
Park & Stride lets you record the location where you parked and the length of time you're allowed to stay. You can open the app and get directions to your vehicle anytime. If parking is free, leave the timer at zero and still use the app to find your way back.
Rather than rely on preset timers like most parking trackers, Park & Stride uses your current location to send smart notifications that ensure you have enough time to walk back to your vehicle. Using iOS 8 actionable notications you can get to directions right from the lock screen.
Animal Zoom Quiz

We all know iPhones and iPads are some of kids favorite toys these days, but there is a lot of opportunity to teach them things along the way. Animal Zoom Quiz will help teach kids to recognize shapes, colors, and animals.
Starting with a closeup of an animal, the app will zoom out slowly to reveal more. Kids can pick from options in every corner for what they thing they're looking at. The faster they figure it out the animal before its fully uncovered the quicker the round.
Kids will love the cute animals and sounds. They won't even know they are learning!
Magical Forest Memory Match

Magical Forest Memory Match is an adorable memory game with beautiful artwork to uncover. You'll discover owls, woodpeckers, mushrooms, and more fantastical characters as you try to find their duplicates.
GameCenter lets you compete with friends and the world to see who can get the highest score.
Punto

Punto is a simple, addictive game easy to play anytime.
Colorful Puntos fall from the sky. You must match the bin at the bottom of your screen's color to the falling Puntos before its too late to catch it.
As you collect Puntos, the speed of the game will increase dropping more and more Puntos on you. As your collection grows, you can spend your Puntos on extra lives and new features.
Cortex Flex

Cortex Flex will strengthen your mind in one minute chunks of fun.
Cortex Flex includes math problems, symbol matching, memory games, difference finding, and pattern recognition. Cortex Flex will help you improve your memory, attention, focus, and more.
Cortex Flex keeps tack of your best scores and number of attempts. Challenge yourself to do better each time.
Cortex Flex even works on your Apple Watch so you can flex your mind on the go. Every minute is another chance to boost your mind.
OAnalyzer

OAnalyzer makes it easy to graph just about any data you have. You can input the data into OAnalyzer or import it from popular spreadsheet apps.
OAnalyzer lets you adjust labels and axis titles for each graph. You can use available regression line functions to help point out trends in your data. OAnalyzer also handles linearizing your data for you and provides the linerized formula as well. This makes it very easy to see any outliers in your data.
OAnalyzer also supports printing your graphs to any AirPrint enabled printer.
Alluring Watch Acquisition

One in a series of point and tap adventure games, Alluring Watch Acquisition 179th game by ENA games.
You need to wear your dad's prized watch to a party, but there is just one problem. Your dad has been a bit clever and hidden the watch somewhere in the house. You'll have to uncover it somewhere in the house.
Touch everything, you never know where that watch might be hiding. ;]
Endless Arrow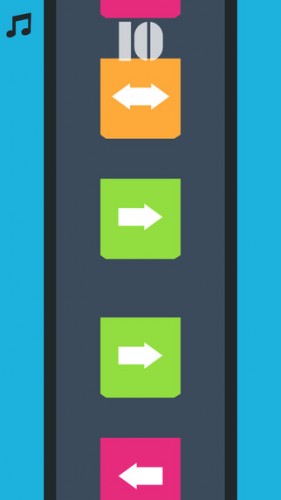 Endless Arrow is an addictive game thats easy to play one handed anytime.
An endless stream of arrows will flow down the screen. Gameplay is simple. You need to swipe the right and left arrows their respective directions and you double tap the arrows facing multiple directions.
GameCenter will help you challenge your friends and show off your latest highscore to the world.
Up! Alarm Clock

Up! Alarm Clock can help you get the most out of your sleep so you wake up feeling refreshed and ready for the day.
Up! Alarm Clock suggests what time you should go to sleep based on your alarm and desired amount of sleep. The app remembers your normal alarms so you can set them with just a tap. The app will notify you if it is quit in the background to make sure you don't miss any alarms.
Up! Alarm Clock features four specifically composed melodies to wake you up gently every morning. Or you can use your music library as you'd expect.
Honorable Mentions
Each and every month I get more submissions than I have time to review. I download every app and see what its about, but I can't write about them all. I love seeing all the apps submitted by readers like you. Its no a popularity contest or even a favorite picking contest. I just try to get a glimpse of what the community is working on through your submissions. Take a moment and checkout these other great apps I didn't have time to showcase properly.
2048 Farmer in the Dell
Blox 3D World Creator
Escape Games 184
XNSPY
Fun Color Tag
Escape Games 239
Where To Go From Here?
Each month, I really enjoy seeing what our community of readers comes up with. The apps you build are the reason we keep writing tutorials. Make sure you tell me about your next one, submit here!
If you saw an app your liked, hop to the App Store and leave a review! A good review always makes a dev's day. And make sure you tell them you're from raywenderlich.com; this is a community of makers!
If you've never made an app, this is the month! Check out our free tutorials to become an iOS star. What are you waiting for – I want to see your app next month!