This is a post by Reader's Apps Reviewer Ryan Poolos, an iOS Developer and founder of Frozen Fire Studios. Checkout his latest game, Cyborg Livestock. Checkout his latest website, iHelp.
It's that time again readers! You've sent me another awesome set of apps and I've run out of space on my iPhone and iPad again. :]
This month we've got a turn-based racing game, a cycling coach in your pocket, an app that turns your phone's keypad into a game, Chinese made easy, music you can paint, and more!
The best part? These apps are created by you using tutorials found right here! So check out these great apps and games made by your fellow readers and maybe next month you'll see your own. :]
Dash Race
Dash Race takes epic to a whole new level.
In what is perhaps the most suspenseful turn based game I've ever played, you race around difference tracks at the speed of… well I made it over 800!
Dash Race turns a simple graph paper and pencil classic into an awesome iPhone or iPad experience. It has tons of unique race tracks, massive stats after each race, and multiplayer support over game center, wifi and bluetooth. You can even save and share your tracks at the end of each match for epic bragging rights.
All I can say is download it now! But the story ends with me putting you in the wall!
CoachMyRide
CoachMyRide is a simple way to improve your cycling. The app is filled with training guides and and workouts from cycling coach Lionel Reynaud.
There are over 100 cycling workouts across 12 different experience levels to keep you in shape. And an entire documentation library within the app that covers everything from the science behind the numbers to what type of equipment you may need.
Dominique has done a great job building this beautiful utility. If you're a cycler you should definitely check out this app.
CrazyDudes
CrazyDudes is a hilarious game with awesome beats and unique hand drawn graphics.
You help a doctor who has his hands full with a bunch of CrazyDudes. These dudes are running around not paying attention to the giant gapping holes in the ground.
The doctor must be a really nice guy because he decides to be a human bridge for these dudes trying to walk over endless pits of doom. But there is only one of you so you'll have to be quick on the draw. ;]
DialMe!
DialMe! takes something we're all very familiar with and turns it into a game. How fast are you with those thumbs?
It starts with a simple muscle memory test copying numbers as fast as you can. But it quickly turns into your worst nightmare of math for fun.
And as if that wasn't enough you can play multiple over GameCenter and launch devastating button swaps and screen quakes against your opponents.
Warning: Regular telephone dialing will never be the same.
Drop The Nut
Good ole gravity can only take this nut so far. Its up to us to get him and his keys into the crate so he can be shipped off.
If there's one thing the iPhone has taught us, it's that we can never get enough of awesome physics puzzlers.
Drop the Nut delivers with original challenges and and an awesome soundtrack. A must have for anyone looking for a fun physics game.
Euro 2012 Shoot Out Quiz
Euro 2012 Shoot Out Quiz is a cool Soccer, or football to some of you, trivia game where right answers move you up the field.
You get three lifelines. 50/50 removes 2 wrong answers from the choices. HomeTeam swaps your current question for one about your favorite team. And FreeKick gives you an extra chance at a hard question.
Sadly even with the 3 lifelines I rarely made it past the second row. Needless to say I never got a goal. :[
Mantis Presenter Pro
Mantis Presenter is a great app for conference room. It allows you to put together presentations from PDFs, keynotes, and even webpages. Then you can broadcast your presentation to other iPads over wifi and they can follow along.
Awesome features include unique security pin codes to make sure only those you invite can view the presentation and an automatic laser pointer on everyone's iPad when you touch anywhere on your own. You can even import assets from email and dropbox while building your presentation.
Fizzy Particles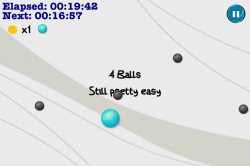 Fizzy Particles is a simple game that I just couldn't put down.
All you have to do is keep your blue ball away from the black balls by dragging it. There are two game modes, classic where the black balls bounce around randomly and free fall where the black balls fall the sky endlessly. The ultra simple gameplay mechanics make it perfect for quick sessions and one handed play.
I often wonder if I could do better just by not touching the blue ball at all. But alas I can't look on helplessly as it's stalked by the evil black balls!
Old Currency
Old Currency is a cool app that will tell you how much modern money is worth in past decades.
It can convert US Dollars, British Pounds, and Euros using historical inflation tables. A cool feature is it can both deflate and inflate your money.
I'd keep this one handy on the dock for fact checking and curiosity while watching your favorite movies set in the past.
Go Ahzgo!
Go Ahzgo! is a side scrolling blaster game where you get to control a flying saucer! It's unique gameplay helps make it extremely addicting.
The controls are simple. You tilt to move side to side and tap to fire a powerful laser down upon your enemies. But be careful you don't fry your friends!
You collect stars to upgrade power ups like bombs and bonus points. And you can even pimp your laser! I'm loving the fire laser. :]
Meilong – 美龙 Chinese for iPad
If you've been looking to learn Chinese this is your chance to do it in style.
Meilong breaks down into ten learning tools for over 1200 Chinese expressions. Every expression comes with an English translation and Chinese audio recording. Learn with flashcards and the lexicon then move on to practicing with exercises including word searches, word building, matching and more.
This Chinese vocabulary training at its finest on the iPad.
SoundBrush
SoundBrush is an absolutely awesome way to create music.
Its so simple and easy any one can just draw the sound they want to hear. Imagine you just ripped open a music box and stretched the gear cylinder to be as long as you want. Now paint on it with your finger to create all the right notes.
If anyone ever tells you iPads aren't for content creation, turn the tables and show them this app because this makes music creation fun and easy enough for anyone.
The Wind in the Willows – Kenneth Grahame
The Wind in the Willows is an interactive book that will ruin ebooks for you.
Each page has a unique interaction as part of the story. With beautiful illustrations and animations kids are sure to love this reading experience.
I don't even read books and I had to go through every page just to see what was coming next. :]
Tower Heroes
Tower Heroes is not your typical tower defense game.
Tower Heroes start out by letting you pick from three different heroes. Each hero of course has its own special upgrades and abilities. As your towers destroy an assortment of creatures you gain experience points that you can use to level up your hero's abilities. Each level has a unique map with its own challenges.
With so many choices and different challenges this tower defense can take unique strategy to be the best.
Trivie
Trivie is a beautiful app that makes classic trivia fun and social.
Trivia allows you to challenge friends and strangers to trivia show downs in over 300 categories. Facebook and Twitter integration make sure you can brag anytime you like.
While you play you can collect tokens to unlock new categories and avatars for your profile. Try it free and once you're addicted you can grab the $0.99 version for double tokens :]
Honorable Mentions
Here are the apps that didn't get reviewed. Remember it wasn't a popularity contest or even a rating contest. Forum members got priority among other factors. Your apps were great and I'm sorry we didn't have time to review them all!
Where To Go From Here?
That's it for July! Can't wait to see what you guys have up your sleeves for next month.
As always, it has been hard to pick which apps to showcase. In the end priority was given to active readers and forum members. This column isn't a ranking or contest. We only highlight the apps to point out our readers, who have put in a lot of hard work on these apps – and it shows! Be sure to check out the honorable mentions to see the rest of the awesome apps!
If you are a reader of this site and would like to be considered for this column, click here!
I hope you enjoyed this column, and I look forward to seeing what you guys come up with this month! :]

This is a post by Reader's Apps Reviewer Ryan Poolos, an iOS Developer and founder of Frozen Fire Studios. Checkout his latest game, Cyborg Livestock. Checkout his latest website, iHelp.