iOS Apprentice Fourth Edition Print Version Pictures!
Check out some pictures of the print version of the brand new iOS Apprentice Fourth Edition!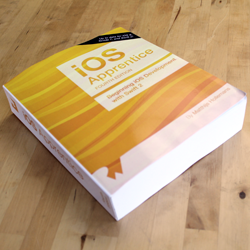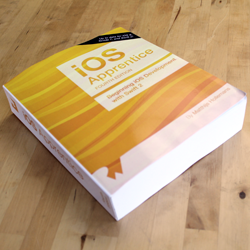 I recently got my print copy of the iOS Apprentice Fourth Edition by Matthijs Hollemans in the mail.
The iOS Apprentice is our beginner's guide to iOS development – and the new Fourth Edition is fully up-to-date for iOS 9 and Swift 2.
I thought some of you might be curious about how the print version looks, so I thought I'd post a few pictures for you!
The book turned out great. It's definitely one of our biggest, weighing in at 788 pages – not to mention our downloadable bonus chapters!
Here's a look at the book from it's side, so you can get an idea of its size:
The book teaches you how to program 4 complete apps from scratch, even if you are a complete beginner to programming. It's full of step-by-step instructions, illustrations, and screenshots:
This marks the fourth version of the iOS Apprentice I have sitting on my bookshelf. It's almost taking up an entire row now! :]
Want a copy of your own?
If you are an existing iOS Apprentice PDF customer: You are eligible for a 50% discount on the new print version; I sent an email last week with a discount code. The discount expires this Wednesday, so if you want a copy grab it while you still can!
If you don't have the iOS Apprentice yet: Order your copy and get ready for some great iOS 9 and Swift 2 learning!
Matthijs and I hope you enjoy the new Fourth Edition!