Readers' App Reviews – September 2015
Check out some great apps released by fellow raywenderlich.com readers in September 2015 – including a game made by Mr. App Reviewer Ryan Poolos himself! :]
While Apple was busy announcing tons of new products, you all were hard at work on tons of new apps!
September is once again stuffed with amazing apps from the RW Community.
I've installed them all and picked a few to share with you. There are so many I don't have time to write about them all, so don't miss out on the Honorable Mentions below as well.
This months community showcase includes:
An app to keep track of chores
A rock star manager simulator
A game made by yours truly
And of course, much more!
Keep reading to see the apps readers like you released this month!
Ciphers

Sometimes you just can't rely on others to encrypt your important messages. Sometimes you've got to take matters into your own hands. Ciphers is here to help.
Ciphers supports more than ten common methods of encryption. Its got Enigma Machine, Caesar Cipher, Simple Reversals, and many more. May of the methods even have extensive options to adjust the cipher. Ciphers gives you a preview of your encrypted message live.
Ciphers also decrypts messages of the same type. The app makes it easy to download or share your encrypted message with a friend. Then they merely need to decrypt the message on the other side.
Air Hockey Dreams

Air Hockey Dreams is a great 3D air hockey game for your iPhone or iPad. The 3D really adds to the immersion factor.
Air Hockey Dreams lets you play 1 or 2 player. Single player is a campaign of sorts as you play against others for coins to level up your paddle or unlock new contenders. Multiplayer moves into a top down approach so two players can use the same device.
Air Hockey Dreams has 10 different opponents each with their own skills and table. There are 20 different paddles to buy that have special stats and abilities. In game power-ups will give you a boost when you need it.
Mouse Times – Florida

Mouse Times is a must have companion for your next trip to Disney World!
Mouse Times will help you plan out your whole trip to Disney World. It has ride images and descriptions for all four parks. You can see them on a map to find the closest ones or get directions to exactly the ride you're looking for. Best of all, Mouse Times has up-to-date wait times and statuses for all rides throughout the park.
Each ride has information like height requirements, disability access, single rider line info, and fastpass availability. Build your favorites list before you arrive and use it as your hit list for the trip.
Get park tips and tricks to show you all the best places to eat and ride. And the best time of day to avoid the crowds. Apple Watch support makes sure you can leave your phone and your pocket and enjoy the day!
Swipefight

Swipefight is a mix between of fighting game and a puzzle game. Solving the puzzle drives your fighter.
The puzzle you have to solve is a simple match-three style game. Each simple is a different attack. Match the right symbols to get just the right attacks. Stuff like four in a row, or shields offer special advantages. Combos have a whole new meaning as they unleash a fury of attacks on your opponent.
There are four fighters to choose from each with their own attacks. You can play title mode for glory or survival mode for the highscores.
WaveAmp

WaveAmp lets you test your hearing with your iPhone. It also simulates hearing loss and hearing aids so you can see what its like.
WaveAmp lets you take the sensorineural hearing test and see your personal audiogram. You can compare it to normal, mild, and severe hearing loss audiograms to see how you do.
Once you know how good your hearing is, you can simulate hearing loss to see what it would be like. You can also simulate hearing aid effects on sound files to see how they help the situation. Live audiowaves give a visual of how these simulations affect the sounds. Its very cool to get an idea what hearing loss is like for those affected.
WaveAmp works best with a good pair of stereo headphones.
Rock Star Manager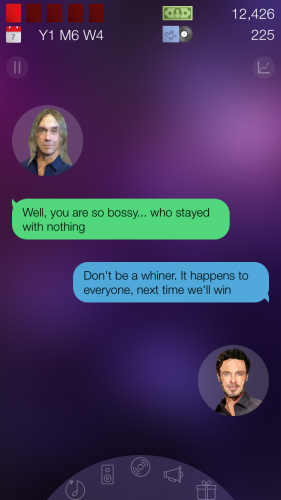 Rock Star Manager puts you in charge of taking a musician from punk to rocker. Run the music business in the palm of your hand.
Rock Star Manager lets you hire a musician, produce their first album, and tour them around. If you play your cards right you'll profit and be able to keep the gravy train rolling.
Its up to you how to best spend your money to build a rock legend. You can choose to practice, tour, record new stuff, advertise, or give lavish gifts. The right combination will make your musician a rock star! Earn money by touring and selling records. Make it into the top charts. Avoid news scandals. Managing a rock star has never been so fun.
Pinbox

Pinbox will help you map everything. You can plan your next vacation, pinpoint your favorite spots around town, or anything.
Pinbox lets you store up to 2,500 pins! Pinbox lets you divide your pins into separate maps so you don't have to weed through all your pins. You can also color code them, give them metadata, and take pictures. Great for documenting a trip as you go.
You can open your pins in Maps, Google Maps, or Waze for directions. Share your pins with others. And of course Pinbox supports Standard, Satellite, and Hybrid map views.
Best of all, Pinbox isn't a social network. Its just an app for you to manage your own geobookmarks. No signup, Facebook, or account required.
PrizePal

Is keeping track of your kid's chores a hassle? PrizePal is here to help.
PrizePal is a chore tracker for both kids and parents. PrizePal lets parents assign & schedule tasks for children. Each chore can have a due date as well as points associated with it. Kids & Parents can get notifications when its time to do their chores. Parents can check on chore statuses, pending prizes, and more in their private dashboard protected by passcode.
As children complete tasks assigned to them they will collect points. Points can be traded in for prizes set by the Parents. Such a great idea to put kids in control of their own allowance by earning it daily.
W-O-R-D-S

W-O-R-D-S is an all new word game with its own unique twist.
W-O-R-D-S gives you a new grid of letters each time you select one. This makes it challenging to plan your words and instead leaves you building words on the fly. Its a lot of fun because it makes each word a journey. The first letter you pick you have no idea what the final word will be. But by the 3rd or 4th letter you're hoping for a certain letter in the next set!
W-O-R-D-S also has four powerups to help you craft the perfect words. Reset clears the current word and resets the grid. Double-Letter lets you choose 2 letters from the same grid. Skip gives you the next letter grid to choose from. And Swap generates a completely new grid of letters.
Speech Timer 4 Toastmasters

Speech Timer 4 Toastmasters is the perfect app for those keeping time at toastmaster's clubs or conferences or anywhere speeches are timed.
Speech Timer 4 Toastmasters will let you time individual speeches and keep track of how well its going. By inputting a range of expected time, Speech Timer 4 Toastmasters can automatically change the screen from green to yellow to red to indicate things are taking a little too long. You can use just the cards on your own to help speakers know when its time to wrap up. Speech Timer 4 Toastmasters will vibrate the device or ring a bell incase you're too enthralled in the speech to keep track of time.
Speech Timer 4 Toastmasters also has a round robin setting for small groups. Using it will make sure each speaker gets their fair share of talking time. Just set the time, and the app will buzz when its time for the next person entirely on its own.
Hand Prix
Note from Ray: This app is by Mr. App Reviewer Ryan Poolos himself! It wouldn't be fair if he reviewed his own app, so I'm standing in to share my thoughts of the app :]
Hand Prix is a fun multiplayer racing game for the iPad where you race by swiping furiously at the screen.
As you race, the roads twist and turn, and you have to take care to swipe in the correct direction while avoiding obstacles and staying ahead of your enemies.
You can either play locally (against AI with clever names like Han Solo or Knuckleberry Finger) or play with friends on GameCenter. It has support for iOS 9's brand new ReplayKit too!
With fun friendly art and music, Hand Prix is some frantic fun that is sure to make you smile. It's free, so be sure to download it and try it out – and take a chance to review Ryan for a change! :]
Honorable Mentions
Every month I get way more submissions than I have time to write about. I download every app to try them out, but only have time to review a select few. I love seeing our readers through the apps submitted to me every month. Its not a popularity contest or even a favorite picking contest. I just try to share a snapshot of the community through your submissions. Please take a moment and try these other fantastic apps from readers like you.
Hidden – Touch-ID Notepad
Things to Learn – School Edition
Guess The Color – addictive puzzle game
Gravity Cube – Quickness is Key
Proxima R
Bubble Puff
Dans Dino Dilemma
Run Mati Run
Magnetismm
Intellie List
VoiceMe
Doodler
FunFlics
Color Worlds
Where To Go From Here?
Each month, I really enjoy seeing what our community of readers comes up with. The apps you build are the reason we keep writing tutorials. Make sure you tell me about your next one, submit here!
If you saw an app your liked, hop to the App Store and leave a review! A good review always makes a dev's day. And make sure you tell them you're from raywenderlich.com; this is a community of makers!
If you've never made an app, this is the month! Check out our free tutorials to become an iOS star. What are you waiting for – I want to see your app next month!