Readers' App Reviews – October 2015
Check out apps released by fellow raywenderlich.com readers in October – from an app for classroom teachers to a game after Elon Musk's own heart!

Time flies when your entire community is working hard to release great apps. October is here already, and you've clearly been hard at work!

I have tried all the apps submitted this month, and have a few I'd like to share with you. I never have time to write about each app submitted, so make sure you checkout the Honorable Mentions below too.

This months community showcase includes:
An app for classroom teachers
A game after Elon Musk's own heart
Addictive puzzle games you can't put down
And of course, much more!
Read on to see what your community has been up to this month!
Crazy Planets

Crazy Planets is a fun puzzle game that gives you control of the universe!
Aligning the planets is up to you now. Rotate each planet to control the flow from start to finish. Each of the seven planets has a unique ability from split shots to locked rotation and more.
You'll get tons of practicing going through level after level of misaligned planets that need your help. You'll have to analyze each pattern to find the optimum way to ensure each planet has a chance to pass along its energy to the next. Try not to go crazy in the process. ;]
Wee Puzzles

Wee Puzzles is an adorable puzzle app for kids.
Wee Puzzles brings tons of very cute artwork into a drag and drop puzzle format. Kids can drag and drop individual parts of a picture. Each with a small hint where it should go. Once the puzzle is complete, it comes to life for a few moments. Super cool.
The sounds are one of the standout features. Tons of sound based feedback keeps things fun. Soothing background music really helps make the experience.
There is also an awesome Halloween version out just in time!
Oncore

Oncore is an app for classroom management build by teachers, for teachers.
Oncore users your seating chart as the interface, making it easy to find your students and collect one touch data on each student. You can track attendance, disciplinary actions, and concept retention. Oncore will help you keep track of which students have been engaged and which need more interaction.
Oncore's most powerful feature is its integration directly with Common Core and Next Generation Science Standards. Teachers can connect classroom activities and assignments with necessary standards to track coverage overtime.
Oncore is a very powerful tool for teachers. Its free to get started before a $10 in app purchase to unlock the rest of the app. If you're working with kids, give it a try.
Asteroid Tap

Asteroid Tap is a simple, addictive game that combines a retro look and simple controls for a classic arcade feel.
Controlling your asteroid destroying ship is easy. Tap and hold on the screen to rotate. Release the screen to fire. Shoot the asteroids before they crush you! There are a variety of difficulties ranging from easy to impossible.
Asteroid Tap is integrated with Game Center. Achievements abound so you can show off how good you are. And of course Leaderboards will make sure you can check how you stack up against your friends.
DrawWithMePro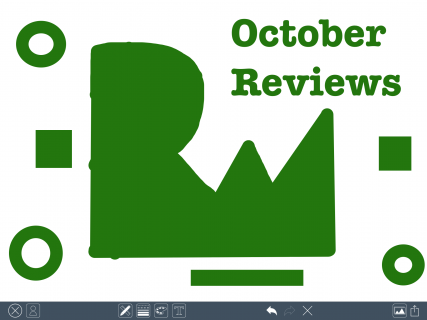 DrawWithMePro is a connected drawing application perfect for interactive group drawing.
DrawWithMePro uses bluetooth to setup drawing sessions for up to 7 iPads at a time. Each user is able to draw in realtime with the other users for maximum collaboration. DrawWithMePro is great for business meetings, planning sessions, or just a bit of fun.
DrawWithMePro has a number of expected drawing features. You can draw freeform or use several shape stamps as well as adjust color and stroke sizes. You can of course add text directly to the canvas using built in fonts. You can import pictures from your camera roll.
Paradot

Paradot is an additive yet simple puzzle game built around timing and circles.
Circles of colors dots rotate in the center of the screen. You have a single colored dot that you want to get to the middle of the stage. Taping advances your dot, but it must advance to a matching color or its game over. You must traverse each layered circle one at a time before making it to the center to complete the level.
Game Center makes it easy to compete with friends and family over who's the best at passing the dot.
Vidblend

VidBlend is a powerful video blending editor for iOS.
VidBlend begins with a powerful video editor that lets you add filters to video on the fly. There are 20+ filters to apply to your video. You can adjust colors, rotate, slow it down, add text and audio overlays, and more! But the real power begins when you blend two videos together. You can start with a simple overlay video, but more on to color dodges, exclusions, or any number of common blending effects.
Vidblend will then let you share your new creation with the world. Save it, mail it, message it, tweet it, whatever you like.
Railblazer

You've got to keep the train moving in Railblazer!
There is a train moving along a short stretch of track. If you do nothing, it will run aground! Lay out track as fast as you can. But keep an eye on the horizon, don't want too steer yourself into a tree or a mountain! Run your train through a station for a celebration and chance to shuffle your tracks.
Railblazer supports Game Center for a little competition between friends. There are two leaderboards, a highest score board for the longest track and a longest loop board for the longest track that ends in a loop instead of a crash. See if you can make your mark on either. ;]
SpaceX Falcon 9 Lander

It is really hard to land a rocket upright on a floating barge in the ocean. Just ask Elon Musk.
SpaceX Falcon 9 Lander will give you a taste of what poor Elon is going through. You've got to control your main thrusters and the side thrusters that keep you upright. Steer yourself over to the platform and come in for a landing nice and slow. BOOM! Thats about the point I explode every single time. Its hard to get everything just right in this challenging game. But boy is it addicting. Now I know why Elon keeps trying. ;]
Draw Me That

What if an alien race threatened our planet with a challenge of drawing geometric shapes to save our lives? Would you be ready?
Draw Me That will make sure you are. With over 100 shapes ready to be drawn just right, you've certainly got your work cut out for you. The game is easy to play, simply tap each dot in the right order and watch the shape draw itself before your eyes. Tap them in the wrong order and you'll find yourself stuck in the shape of shame.
Game Center will make sure your friends know who's in the lead to represent earth in the intergalactic tournament.
Strategy Duel

Strategy Duel is a board game for your iPhone like Connect 4 and Rock Paper Scissors at the same time.
Strategy Duel starts with a checkerboard of tokens for both players. But you can't see your opponents pieces. Each turn you can upgrade one of your tokens or attack a nearby token. The goal is to connect 6 of your tokens in a row to win.
You have a variety of options when playing your turn. You can upgrade your 1 star token to 2 star or 2 star to 3 star. You can convert your token in to a bomb, relinquishing your attack but making sure you're safe from encroaching opponent tokens. You can take a peak at nearby tokens to plan your next move. Or you can do what you do best, attack a nearby token to take over more of the board.
Strategy Duel uses Game Center for multiplayer so you don't just have to try out your strategies on the A9 chip, you can compete against your friends!
Honorable Mentions
Every month I get way more submissions than I have time to write about. I download every app to try them out, but only have time to review a select few. I love seeing our readers through the apps submitted to me every month. Its not a popularity contest or even a favorite picking contest. I just try to share a snapshot of the community through your submissions. Please take a moment and try these other fantastic apps from readers like you.
Finger Tap Challenge
What am I flying on?
Approximal
App Cost
Cartel Kings
Space Erase
Gobi
Painter X
Fourth Estate
Math Race – Race the car using brain power
App Cost
Water++
Periodic Table of Elements Bubble Pop
Chicken Madness: Catching Eggs
TSpeaker
Where To Go From Here?
Each month, I really enjoy seeing what our community of readers comes up with. The apps you build are the reason we keep writing tutorials. Make sure you tell me about your next one, submit here!
If you saw an app your liked, hop to the App Store and leave a review! A good review always makes a dev's day. And make sure you tell them you're from raywenderlich.com; this is a community of makers!
If you've never made an app, this is the month! Check out our free tutorials to become an iOS star. What are you waiting for – I want to see your app next month!