Mark Your Calendars: Unity Feast Next Week!
Want to learn how to make games with Unity? Mark some time on your calendar next week to do some free tutorials and make your first game!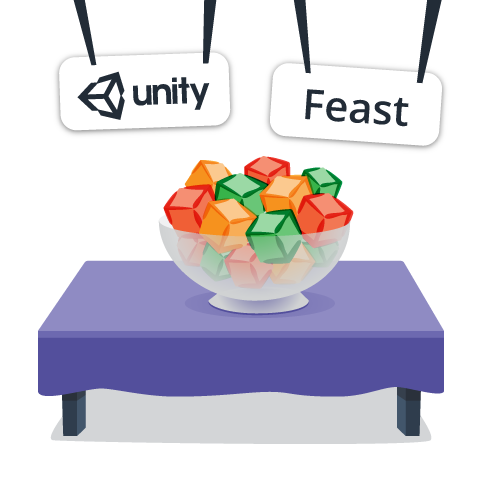 There are many different ways to make iOS games, but one of the most popular ways these days is with Unity.
Unity is great because it's cross-platform, has a full-featured visual editor, a robust built-in asset store, and is used by some of the top studios in the industry.
If you've been interested in learning Unity but haven't done so yet, we have a great opportunity for you: the Unity Feast!
Keep reading to find out what the Unity Feast is all about, and be sure to mark your calendars!
What is the Unity Feast?
The Unity Feast is designed to take you from a complete beginner to Unity, to making your first game – all within a week. And the best part – it's completely free!
Here's how you can be a part:
Do 1 Tutorial a Day: Every day next week, we will be releasing a new free Unity tutorial on our site. Go through each one to learn the basics of Unity development.
Enter the Unity Game Jam: After reading the new free tutorials, you'll know enough to make a simple game on your own. So enter our Unity game jam over the weekend to make your first Unity game.
Win Prizes: Our Unity Tutorial Team will judge the games submitted in the game jam; the maker of the top-voted game will win a $50 Steam gift card and a new Apple TV! :]
Sound like fun?
Then mark some time on your calendar – you'll need an hour a day from Monday-Friday to do a new free Unity tutorial, and at least 8 hours over the weekend to make your game for the game jam.
Get ready to have some fun, learn a ton about Unity, and potentially win some great prizes. We can't wait to see what you come up with! :]