Our 1000th Tutorial: A Reflection and Giveaway!
Today marks an exciting day – we just released our 1000th tutorial! Keep reading for a reflection and a giveaway.
As many of you have noticed, the 1000th tutorial at raywenderlich.com is upon us!
For comparison, it took us 4.5 years to make our first 500 tutorials, and just 16 months for our latest batch. I hope this exponential trend doesn't continue, or my hair will turn grey! :]
Given this great milestone and since Thanksgiving is near, I'd like to take this day to thank the awesome folks who make everything we do on the site possible.
In addition, I'd like to give away a unique prize you won't see anywhere else :] Let's dive in!
Thank You!
First, I'd like to thank our talented team of authors, editors, video instructors, and forum subject matter experts: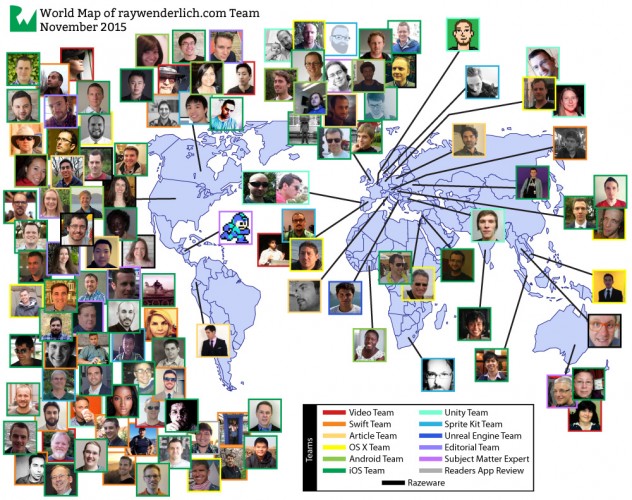 Even though we are distributed across the world and all have different jobs, I think of everyone here as a coworker – and a friend. I feel incredibly grateful to a part of such a talented and hard working community of developers. I hope to continue to work (and play!) with you for many years to come – thank you! :]
Second, I'd also like to thank each and every one of you who read this site.
I've had the opportunity to meet many of you last year at RWDevCon and it was so amazing to get to meet you in person. Thanks also for all of the supportive emails, tweets, and comments – they really make a difference and make all the hard work worth it.
Remember, although this site bears my name, I am only a small part of what makes this happen. All credit goes to this amazing community of team members & readers who make this all possible! :]
Making a Difference
One thing I've heard over and over again is how raywenderlich.com is making a big difference in many people's lives.
This makes me really happy to hear, because that's what this site is all about: helping each other reach our dreams though a spirit of friendship and cooperation.
I asked the raywenderlich.com team how the site has made a difference in their lives, and here's what a few of them had to say:
Ellen Shapiro, Director of iOS Engineering at Vokal
"I would not be where I am today, running a team of 20 iOS developers and building amazing apps with them, without raywenderlich.com. This site started right around when I was first learning how to program; without it I don't know that I would have made it over the hump to being able to get my first job, and with it I have reached heights I never would have dreamed I could. I am immensely proud to be a part of this team so I can try to pay forward the tremendous impact this site has had on my life."
Mike Oliver, Director of Engineering at Runkeeper
"When I first got into iOS development, raywenderlich.com was always at the top of google searches for how to get things done. Years later, it's still my go-to learning source. I'm proud to be a part of it's continued success and love giving back to the development community through the site that helped me get started."
Chris Wagner, Lead iOS Developer at InfusionSoft
"Being part of the raywenderlich.com team has given me a sense of community that I never would have expected in software development. It's amazing to work side-by-side developing training materials with the best iOS developers in the industry. I wouldn't be where I am today without this site and community, thank you to our readers and everyone involved!"
What's Your Story?
How about you – has raywenderlich.com made a difference in your life?
If so, you should enter our special 1000th tutorial giveaway!
One lucky winner will get a free ticket to RWDevCon 2016 to meet me, Vicki, and the rest of the team in-person.
In addition, you'll get an invite to our team-only pre-conference fun day! Last year we took a White House tour, went to the Air & Space Museum, and enjoyed some delicious food – this year will be something different (but still very fun)! :]
To enter, simply add a comment on this post answering this question:
How has raywenderlich.com made a difference in your life?
We will announce the winner in a week.
Thanks again for being a part of such an amazing developer community, and let's continue to work together to leave the world a little bit better! :]