Unity Feast Game Jam Winners!
Read about the winners in our first ever Unity Game Jam!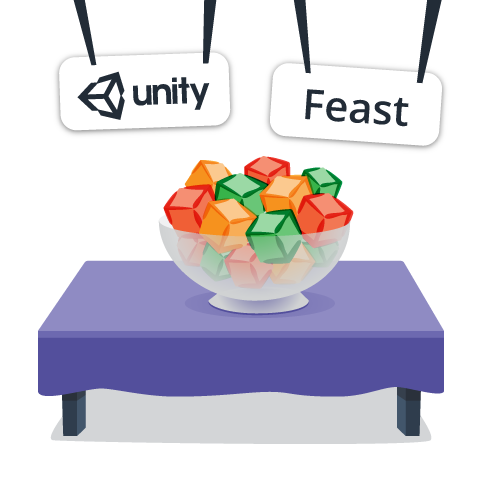 Last week was an incredible week for the Unity team. After working many months of writing and editing, we presented the latest and greatest tutorials from the Unity team.
During the Unity Feast, we released the following tutorials:
The feast concluded with our first ever game jam whereby the winner walks away with a free Apple TV and a fifty dollar gift card to buy Unity assets.
Keep reading to learn about the Game Jam and the winners of it.
What was the Unity Feast Game Jam?
The Unity Feast Game Jam was a challenge to make a game in Unity, using a theme we provided.
The challenge was to create a 2D or 3D Unity game around the theme of eating. To make things interesting, we provided five different objects. Participants had to include two of the objects in the game.
We received a total of thirteen entries who had a lot of fun with the theme. Unfortunately, only five can win prizes.
That said, speaking on behalf of the Unity team, I want to thank everyone who submitted games to us. It was really fun to play them as well as chatting with a bunch of you over the Game Jam Slack channel.
To the Winners!
Here are all the winners for the Game Jam. If you don't see your game listed, we'll be doing this again, so keep reading tutorials and practicing those skills. We can't wait to play your next game!
Fifth Place – Boxing Chef by Esperteyu Games
Description: In this game you play as a chef whose kitchen is being overrun with both food and bugs. Collect the food while boxing off the bugs that fall from the top of the screen in this fun 2D game.
Team Thoughts:
Fun because who hasn't wanted to punch a bug? – Todd Kerpelman
There is no bigger satisfaction than punching flies with your bare fists and make them fly through the air. Sometimes a bit too difficult, but still fun. – Barbara Reichart
Prize: A license to 2D Homing Missiles, 2D Laser Pack, and 2D Shooter Bullet and Weapon System.
Fourth Place – Eat to Live! by Shanaka Gunasekara
Description: Play not one, but two characters in this infinite runner game where you are tasked with eating food while jumping over bugs. Lose one character and you will lose the game.
Team Thoughts:
Challenging gameplay, but also very much fun and not too hard, a perfect causal game – Joachim Baur
Prize: A license to Texture Packer and Sprite Illuminator.
Third Place – Orc Hungry by Tyler Wickiser
Description: Play as an orc in this 2D game where you must eat food while avoiding tractor driving manic farmers and other obstacles in this well put together albeit hard 2D game.
Team Thoughts:
Cool graphics and interesting levels. – Sean Duffy
Prize: Will receive a license to Shader Forge.
Second Place – Feed the Cat by Quentin Ivanhoe
Description: Hungry cats must be fed! In this game, food floats towards a hungry cat but bugs try to fly down and steal the food. Shoot down the bugs with your cannon in this fun 2D game.
Team Thoughts:
Your cat needs to be fed. But flies will steal its food. Shoot them with cannon balls. This is not at all an over reaction. No! I really like the over the top theme. – Barbara Reichart
I like it! It's a pretty challenging game. I like the way you have to shoot the flies to save the food. I love the old movie style dialogue and the "flickering vignette" effect! – Eric Van de Kerckhove
Prize: Will receive a license to UFPS : Ultimate FPS
And the first place winner of the Unity Game Jame …
First Place – Munchies by Daniel Mather
Description: Eating is your only job in this fun creative game. In it, you play a green little blob that must eat. You can only eat items smaller than you. With each bite you grow larger and larger, but beware your larger enemies who want to eat you!
Team Thoughts:
Really fun, well put together! – Brian Moakley
Eat or be eaten. Eat everything to grow and munch your enemies. Fun to play and even has multiple levels. – Barbara Reichart
Fun! Reminded me of Feeding Frenzy, which is a game I sorely miss. – Todd Kerpelman
Nice level progression difficulty, and a good take on the 'agar.io' game style where you must consume items smaller than you. Quite fun to play. – Sean Duffy
I especially liked the "strategic" element introduced by the player's growth – Joachim Baur
Great game, I like the "you can only eat what's smaller" mechanic. I was quite amused when I found out you could eat the enemies too! – Eric Van de Kerckhove
Prize: Will receive an Apple TV and a fifty dollar gift certificate.
Huge congrats to the winners! We will be in touch soon to arrange delivery of your prizes.
Once again, a huge thanks to everyone who donated prizes for the Unity Feast! These are all amazing resources for Unity developers that we hand-picked and highly recommend.
And That's a Wrap!
And that concludes the Unity Feast, we hope you all enjoyed it and got fat and happy along the way!
Congrats to all of the prize winners, and a huge thank you to the companies and developers have donated prizes.